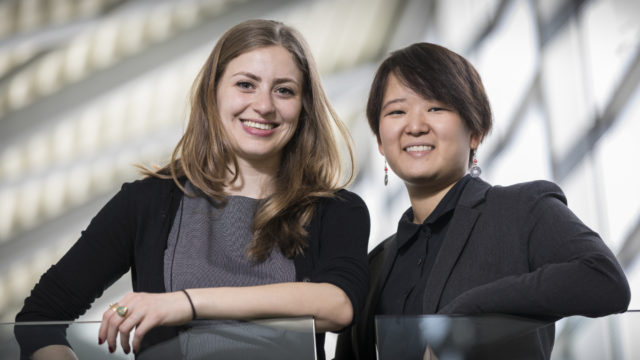 By Rosa Durst '17
Bo Kim '17 (Seoul, South Korea) and Farah AlHaddad '17 (Damascus, Syria) spent their junior years on different continents, each working with refugees. Now they're housemates and activists, working to bring refugee students to Macalester.
Today they're sitting in the Campus Center, surrounded by students making signs for an upcoming protest objecting to the president's executive order halting refugee admission and banning citizens of seven countries from entering the U.S.
Kim spent spring and summer of 2016 working on ambulances throughout Israel and Palestine. She knew she wanted a career in public health—specifically in conflict-heavy regions needing humanitarian aid—but wanted to experience working in the field with patients. So she put her medical certifications and Arabic skills to use volunteering with the Red Crescent Society in Jerusalem. "I just emailed them," says Kim. "I was expecting to do translations or menial office tasks. I had no idea I would be on an ambulance."
Her coworkers welcomed her and taught her medical terms in Arabic. Each day she'd be assigned to an ambulance that would transport patients—most of them Palestinian refugees—to area hospitals. Often the ambulances got stuck at checkpoints and had to wait for their patients to be allowed through. At moments like these, Kim felt powerless. "What came out of that was incredible respect for those who live under oppression," she says.
AlHaddad studied in The Hague, the Netherlands, in fall 2015, when the influx of Syrian refugees into Europe had reached a crisis point. To help out, she began volunteering with the Dutch Refugee Council, which works with accepted asylum seekers from across the world to ease their transition into the Netherlands. The group visited refugee camps, where AlHaddad worked as a translator for refugees, many of whom had just gone through harrowing emigration experiences and were beginning the lengthy process of reuniting their families.
After AlHaddad and Kim moved in together last fall, they wasted no time in continuing the work they'd done abroad. The two, together with a group of other Macalester students, are now collaborating to develop a pilot program for recruiting refugee students to the college, beginning with Syrian refugees.
When President Trump issued his executive order (since overturned by the courts), the team was concerned that their new initiative might prove impossible. But messages of support immediately flooded into AlHaddad's in-box—from students, alumni, and community members—offering homes, resources, and help. So the team is moving forward, despite setbacks: they even held a contest to decide on a name for their initiative. The person who came up with the winning name (Committee for Refugee Student Access, or CRSA) won the prize of dinner at Kim and AlHaddad's house.
Despite all the support, AlHaddad finds that activism has an emotional cost: "When I was interpreting for asylum seekers and refugees, these were people from my homeland. It's very hard to separate that out." She has to look away from videos of refugees making life-threatening journeys across the sea. "To me these are potential family and friends," she says. "And I have family and friends who have gone through these routes."
As the only full Syrian citizen on campus, she has willingly assumed the burden of advocating and educating people. "But there are days where I'm too tired and overwhelmed to do the work," she says. "And that's when my friends and the teams I work with are most inspiring—because they pick up the work for me."
For both women, the most rewarding aspect has been the solidarity they've encountered along the way. "Look around," says AlHaddad, gesturing at the students preparing to head off to the protest. "People keep coming. It's amazing."
Farah AlHaddad '17 is a Macalester Davis United World College Scholar.