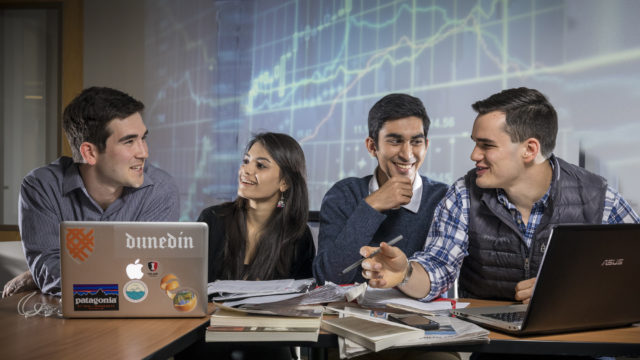 By Livvie Avrick '19
"Things that affect you and me also affect the stock market. It's fascinating to look at that in real time."
—Kaarin Khandelwal '20
A $20,000 nest egg—donated by a Mac alum—has grown into $50,000, thanks to members of the Macalester Investment Group. They have more than doubled their money by buying shares in such popular companies as Google, Apple, 3M, and Buffalo Wild Wings.
Founded in 2001, MIG teaches students about the stock market through pitching stocks and investing real money—an unusual opportunity for liberal arts college students.
At a recent meeting, MIG members researched the social media industry to prepare for Snapchat's Initial Public Offering. The goal, says MIG co-president and economics major Jacob Simons '17 (Oconomowoc, Wis.), is to teach students how to correctly value a stock. "We're finding companies we think will actually perform well in the future and looking for value in these companies," he says, rather than investing in trendy but potentially volatile companies.
Members' keen interest in a company's long-term value is due in part to MIG's buy and hold strategy: the group is required to hold onto its stocks for three years after purchasing them. Naturally, this also influences how the group pitches stocks.
Any member can pitch a stock, which is approved by a majority vote of members present. "This is pretty cool because as a first-year, I don't think I would get this opportunity elsewhere," says Kaarin Khandelwal '20 (Bangalore, India), who intends to major in economics and applied mathematics.
Although the professional way of pitching is not as collaborative, MIG's focus is on teaching. "The best feature of our org is the learning experience," says MIG co-president and economics major Joshua Conlan '17 (Honolulu, Hawaii). "We want our org members to go up there and pitch a stock so they feel as if they have some impact on the org and the money."
Khandelwal made his first pitch earlier this semester for Priceline.com, a discount travel company, and the group decided to buy it. For Saloni Daga '20 (Kolkata, India), MIG matches her interest in capital markets. The organization offers Daga a space in which she can learn about investing. "I like this angle of economics," she says. "The leadership go into some details and technical jargon I don't really get, but I think with time I will get the hang of it."
MIG also helps students network, connect with alumni, and find internships. This is how co-president Simons landed an internship and ultimately a job at JMP Securities in San Francisco as an investment banking analyst. Both Ryan Abbe '01, a managing director at JMP, and Henry Yang '14, a former employee there, helped Simons by forwarding on his resumé and coaching him on interview preparation.
"Investments might seem dry, but they're far from that," says Khandelwal. "Investments are very connected to the human world. Things that affect you and me also affect the stock market. It's fascinating to look at that in real time."