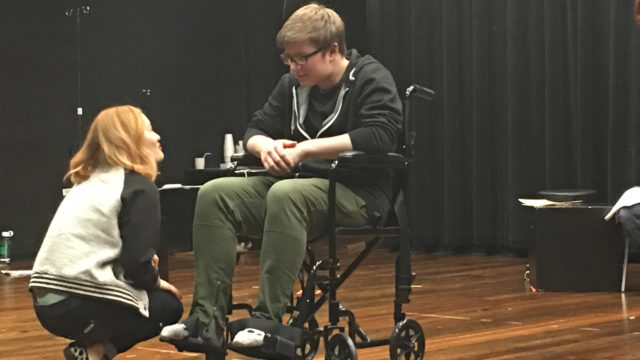 St. Paul, Minn. – The Macalester College Theatre and Dance Department presents Acute Care: Performing Emotional Labors, directed by Beth Cleary. Performances are April 6-8 at 7:30 pm, April 8 at 8 am and 11:30 pm, and April 9 at 2 pm in the Janet Wallace Fine Arts Center, Main Stage Theater, 1600 Grand Ave., St. Paul. For ticket information, go to macalester.edu/box office or call 651-696-6359.
An off-campus "tour" is planned for the second weekend.  Acute Care will perform at the Minnesota Nurses Association headquarters, 345 Randolph Avenue, #200, St. Paul.  Performances are April 13 at 8 pm, and April 15 at 4 pm.  All box office is handled through Macalester, and all performances are open to the public.
Acute Care is an oral history-based performance, using the words and stories of over 20 Twin Cities nurses who gave interviews for this project.  Acute Care explores how nurses became nurses; nursing specialties; the highly technical language and special expertise nurses use in their jobs; the varieties of the nursing experience, including the hectic pace, night shift work, dealing with anxious families, and helping patients both get better and die with dignity. The Macalester students performing Acute Care play nurses in ten specialty areas, from emergency to pediatrics.  They also play patients, and they play themselves.  They have been very involved in the creation of this piece, and are eager to give the nurses who interviewed for this project visibility and voice.
Beth Cleary is the director and conducted the first set of interviews in 2010.  Cleary has taught theatre history and directed at Macalester for 24 years.  Her recent productions include: The Glass Menagerie, the U.S. premiere of Naomi Wallace's The Inland Sea, and 12 Ophelias by Caridad Svich.  She has directed in the Twin Cities through Naked Stages, the Minnesota Jewish Theatre and the Playwrights' Center.
Acute Care cast members include: Marwan Abunura '20 from Weaverville, N.C.; Maya Bergman-Corbet '19 from Iowa City, Iowa; Emma Breslow '19 from Londonderry, N.H.; Luke Brown '19 from Huntington, Ind.; James Cannon '20 from Lisbon, Iowa; Jesse Claire-McKown '19 from Sacramento, Calif.; Melissa Feinman '17 from New York, N.Y.; Bailey Haas '19 from Ocean Springs, Miss.; Wren Hess '19 from Ann Arbor, Mich.; Ming Lian '19 from Singapore; Anna Mickle '18 from Madison, Wis.; Joseph Rothstein '20 from Durham, N.H; Miller Shor '19 from Bainbridge Island, Wash.; Max Danielewicz '20 from Macomb, Mich., is the Stage Manager; Marley Higbee '20 from Ypsilanti, Mich., is the Assistant Director; and Trevor Zapiecki '19 from Grand Rapids, Ohio, is the Assistant Stage Manager.