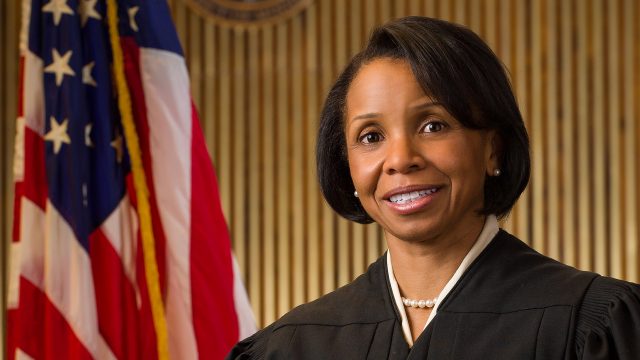 St. Paul, Minn. – The Honorable Wilhelmina Wright, a United States District Court Judge for the District of Minnesota and former Associate Justice of the Minnesota Supreme Court, will be the 2017 commencement speaker at the Macalester College graduation ceremony. Connor Valenti, a computer science major from St. Louis, Mo., is the senior class speaker.
Commencement will be held at 1:30 p.m., Saturday, May 13, at the college.
"Judge Wilhelmina Wright is an acclaimed jurist who was the first African American woman to serve on the Minnesota Supreme Court," said Macalester President Brian Rosenberg. "We are truly honored to have someone of her stature as our commencement speaker this year."
Former President Barack Obama nominated her in 2015 to the United States District Court for the District of Minnesota. "(Judge Wilhelmina Marie Wright) has a long and distinguished record of service, and I am confident she will serve on the federal bench with distinction." She received her commission in February 2016. Her predecessor was Judge Michael J. Davis, who graduated from Macalester in 1969.
Previously, Minnesota Governor Mark Dayton appointed Judge Wright to the Minnesota Supreme Court, and she served as a judge on the Minnesota Court of Appeals and the Ramsey County District Court (Saint Paul).
Judge Wright is the only jurist in state history to serve as a state district court judge, appellate court judge and state Supreme Court justice.
Prior to her judicial career, she was an Assistant U.S. Attorney, representing the United States in complex economic-fraud cases and violent-crime cases in the District Court and the U.S. Court of Appeals for the Eighth Circuit.
She was awarded the U.S. Department of Justice Special Achievement Award in 1997 and the U.S. Department of Justice Director's Award for Public Service in 2000.
Judge Wright also practiced law in the Washington, DC office of Hogan & Hartson, LLP, where she represented school districts across the nation seeking to enhance educational opportunities for public-school students.
Following law school, Judge Wright served as a law clerk for the Honorable Damon J. Keith on the United States Court of Appeals for the Sixth Circuit.
She graduated cum laude from Yale and received her JD from Harvard Law School.
Judge Wright will be receiving an honorary degree along with retiring faculty members Martin Gunderson '68 and Stan Wagon.
Martin Gunderson '68, DeWitt Wallace Professor of Philosophy, has been a faculty member at Macalester for 40 years. He majored in philosophy at Macalester before earning his PhD at Cornell University and a JD from the University of Minnesota. With expertise in ethics, bioethics, and human rights, he's taught more than two dozen philosophy courses, including many topics courses and senior seminars. In 2006, the college honored his commitment to excellence in teaching with the Thomas Jefferson Award. Gunderson has also received many grants for travel, faculty development, and collaborations with students. His scholarship includes the book AIDS: Testing and Privacy, an early investigation of complex ethical issues related to privacy and public health, as well as many book chapters and peer-reviewed articles. He's presented at more than 50 conferences. At Macalester, he has served extensively on elected committees and has been chair of his own department three times.
Stan Wagon, Professor of Mathematics, Statistics, and Computer Science, joined the Macalester faculty in 1990, after spending 15 years at Smith College. He studied mathematics at McGill University and earned his PhD at Dartmouth College. He was a pioneer in using computation, visualization, and animation in mathematics teaching and scholarship. He's published 11 books and more than 100 papers, including many co-authored with Macalester students. In the classroom, he brought a dinosaur bone to calculus class to teach radioactive decay and carbon dating; he used a high-speed video camera to study falling dominoes and disprove a popular theory. In 1997, he constructed a square-wheeled bicycle that rolled smoothly over a road made of inverted catenaries. The bicycle, updated in 2004, was featured in Science News and Ripley's Believe It or Not. And for several years, he led teams in crafting prize-winning sculptures to illustrate math concepts at the International Snow Sculpture Championships in Breckenridge, Colo.
Commencement ceremonies will include an academic procession led by the Macalester Pipe Band, flag bearers representing 37 countries of the 63 graduating international seniors plus the U.S. and U.N. flags, faculty in academic robes and the 518 seniors.