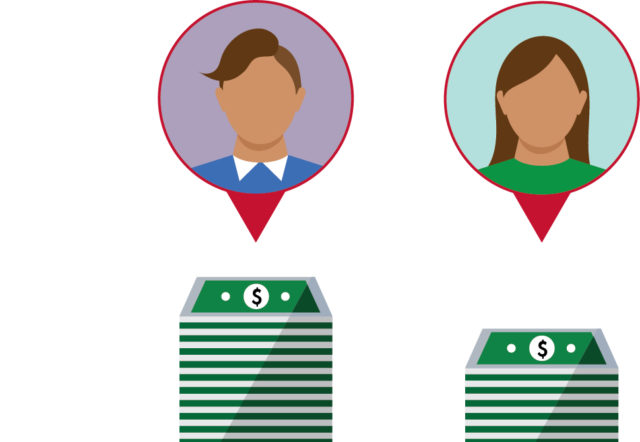 By | Livvie Avrick '19
April 4 is Equal Pay Day, which represents the date this year when women's earnings catch up to what men earned in the previous year. Women working full time typically earn $0.79 to every $1 that men earn, and the pay gap for women of color is even larger.
In 2009, provost and dean of the faculty Karine Moe—a labor economist—and anthropology professor Dianna Shandy explored the reasons for the pay gap in their book Glass Ceilings and 100-hour Couples: What the Opt-Out Phenomenon Can Teach Us about Work and Family.
The focus of Moe's research for this book was on the choices college-educated women make about how to allocate their time between work and home. The pay gap starts to widen in people's early 30s, which suggests that the gap may be related to family reasons.
Whether for family obligations or not, some women choose more flexible work options that can reduce their earning capacity. "It's a question of how much of the decision is choice, preference and desire, and how much of the decision is forced by limits that are put on women and social structures that lead women to make particular kinds of decisions," says Moe.
There are different theories about why women earn less than men. Discrimination is one of many factors, with possible additional discriminatory effects for women who have children. Some argue that women negotiate less than men, and that "if you negotiate less in your starting salary, that can have cumulative effects over the course of your career," says Moe. "It is really important for women to do their research and be fully aware of what appropriate salaries should be for certain types of work," says Moe. "There's a lot of that information on the web."
Part of the challenge also includes family and home demands, which are still predominantly placed on women. "There are men who take a lot of responsibility for family," says Moe. "But on balance, women continue to bear the brunt of what we call the second shift, when you work all day at your paying job and then you bear the responsibility for the work that happens after at home."
Despite high numbers of women in law and medicine, the pay gap will not resolve itself. The Institute for Women's Policy Research predicts that with the current rate of change over the past 50 years, women will have to wait until 2059 to reach equal pay, and even longer for Hispanic and Black women. "Until we figure out how to manage these structures that put more demand on women, I don't think it will solve itself," says Moe.