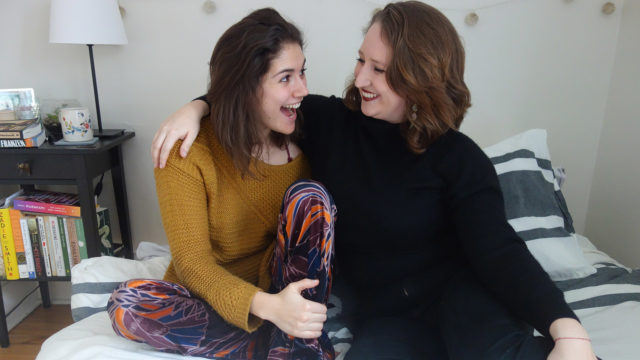 By Rosa Durst '17
Paired together as first-year roommates, Shannon Mahedy '17 and Gabrielle Rivera '17 first met under what they now agree were less than ideal circumstances. Both had arrived on campus early to participate in preorientation programs, but neither knew exactly when the other was going to show up. "I had just gotten back from Macward Bound," says Rivera, "sweaty and needing a shower and playing some rather loud Jay Z," when Mahedy suddenly unlocked the door. "I was quite startled," says Mahedy.
But the duo were soon relieved to find that they were compatible, with many similar interests, from their taste in music and decor to a shared love of dancing. Early on, Rivera suggested arranging their room so they could see each other from their desks, in order to facilitate their friendship. Their first year was filled with baking cookies, walking along the Mississippi River, and holding spontaneous dance parties.
After Rivera approached Mahedy about sharing a room the following year ("I felt like I was asking you on a date," says Rivera), they made sure their sophomore room in Bigelow was every bit as homey as their first-year room, including an open floor plan for dance breaks.
Then followed what Rivera calls the "dark days" of junior year, when study abroad logistics meant the two were unable to live together. But today, as seniors, they share an off-campus house with two other students, complete with kitchen for "cooking while listening to music," says Rivera, and of course, "dancing while cooking," Mahedy adds.
In addition to being roommates, the two are also colleagues. Mahedy began working at the Health and Wellness Center as a sophomore, leading the Consent is Mac campaign. When a co-leadership position opened up, Rivera applied because of her interest in a health career. Although she was apprehensive about intruding on Mahedy's work world, Mahedy was excited when Rivera applied. "I knew she had a good work ethic and that we have similar ways of thinking and going about things, so I thought it would be perfect."
Both also teach fitness classes—Rivera teaches Core Power and Mahedy teaches Zumba. Attending each other's classes, says Rivera, is "an opportunity to support each other in a different way."
Rivera and Mahedy plan to stay in the Twin Cities after graduation. But even if they were someday to end up in separate cities, says Mahedy, "It would be impossible that we would fall out of touch. We've been through so much and gotten so close that we're going to be friends for a long time."