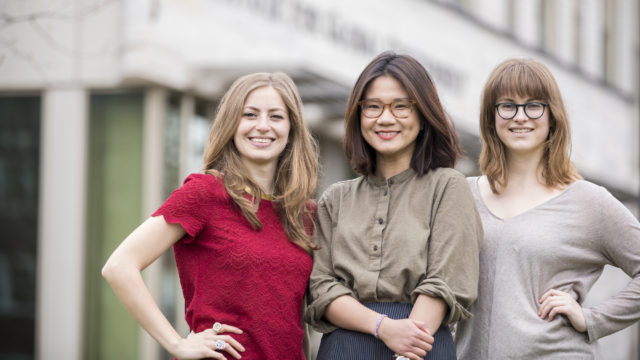 It's a point of pride that Macalester was among the first colleges in the nation to fly the flag of the United Nations. The college's historic devotion to global understanding lives on in its abiding commitment to global citizenship.
Each year several students are presented with Global Citizenship Student Awards in recognition of their ongoing journeys dedicated to the ideals and practice of high academic performance, internationalism, multiculturalism, and civic engagement.
This year three graduating seniors—Farah AlHaddad, Xing Gao, and Georgia Gempler—were chosen to receive this high honor and to speak at the Institute for Global Citizenship's Celebration of Global Citizens on April 26.
Farah AlHaddad '17 (Damascus, Syria) is a political science major with a human rights and humanitarianism concentration. AlHaddad has served as an Arabic language preceptor, spent the summer as a sustainability fellow in India and Malaysia for Children's Heartlink, and interned for the Advocates for Human Rights, among other experiences. Says AlHaddad, "I have witnessed what it is to be uplifted by a community that is rooted in empathy and mutual respect—a community in which I have happily spent four years, learning how to make a difference in the world."
Xing Gao '17 (Claremont, Calif.) is an international studies and geography major with a concentration in community and global health. She has been a patient educator at Family Tree Clinic in St. Paul, a tobacco policy research intern for the International Union Against Tuberculosis and Lung Disease, and a health care access intern for The Arc of the Greater Twin Cities. Says Gao, "Ultimately global citizenship exists within my communities around the world, bound together not just by historical and structural forces that shaped our struggles, but also by our resilience, solidarity, and love for one another."
Georgia Gempler '17 (Yakima, Wash.) is a Latin American studies major with minors in Hispanic studies and geography. She has served as an outreach intern for the Minnesota Literacy Council, a Spanish circle worker for the Jane Addams School for Democracy in St. Paul, and a project superior for Amigos de las Americas in the Dominican Republic. Says Gempler, "I have come to understand that citizenship, as a process through which you belong, interact, and engage, is inherently local. It is then how local contexts connect with one another—through human movement, politics, and communication—that globalizes citizenship."