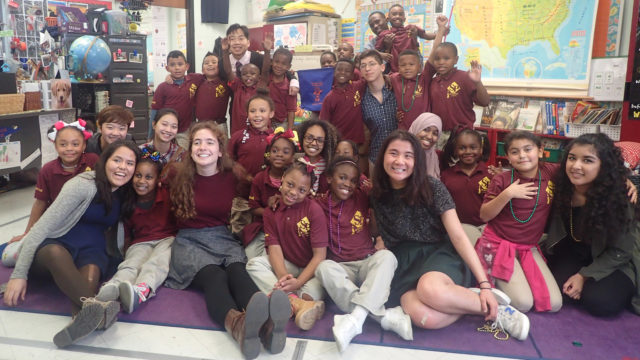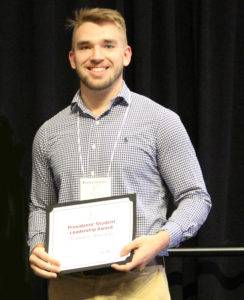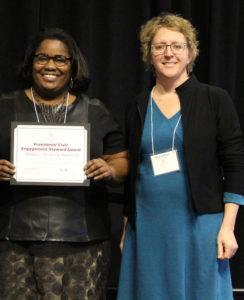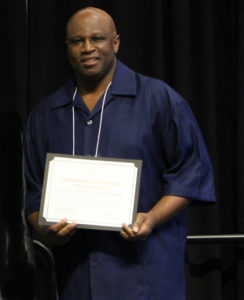 St. Paul, Minn. – Macalester College has received three Presidents' Awards from Minnesota Campus Compact for 2017. Each president or chancellor in Minnesota Campus Compact may nominate an individual or a group for each of three awards.  The awards are the Presidents' Student Leadership Award, the Presidents' Civic Engagement Steward Award, and the Presidents' Community Partner Award.
Brandon Hinrichs '17 received the Student Leadership Award, given to an individual student or a student organization that models a deep commitment to civic responsibility and leadership, evidenced by initiative, innovative and collaborative approaches to addressing public issues, effective community building, and integration of civic engagement into the college experience.
Hinrichs, a Biology and Chemistry double major from Hayward, Wis., created "Serving Up Science" as a Bonner Scholar in partnership with the Fred Wells Tennis Center in St. Paul. He recruited Macalester faculty and students to design an interactive curriculum connecting lab experiments with the game of tennis with particular attentiveness to building relationships between first-generation college students and youth from under-resourced communities.
The Civic Engagement Steward Award went to the History Department's Rondo "History Harvest," given to a member of the faculty, administration, or staff or for a group (e.g., advisory committee, task force, project team) that has significantly advanced their campus' distinctive civic mission by forming strong partnerships, supporting others' civic engagement, and working to institutionalize a culture and practice of engagement.
This innovative collaboration between Rondo Avenue Inc. and Macalester faculty, including History professors Crystal Moten, Amy Sullivan and Rebecca Wingo, staff, and students from multiple departments, utilized oral history, digital humanities, photography, and film to document the history and legacy of Rondo, the heart of St. Paul's African American community, that was divided by highway construction in the 1960s.
Success Preparatory Academy received the Community Partner Award, given to a community-based organization that has enhanced the quality of life in the community in meaningful and measurable ways and has engaged in the development of sustained, reciprocal partnerships with the college or university, thus enriching educational as well as community outcomes.
Over the past five years Macalester has built a multifaceted partnership with Success Preparatory Academy in New Orleans, La. Students, faculty and staff, including Bonner staff members Ruth Janisch Lake and Sedric McClure, have worked with the principal, Niloy Gangopadhyay, and teacher, Noeleen Hay.  Together they have designed opportunities to learn about educational reform in New Orleans while also creating pen pal relationships between Macalester students and elementary school students at the school.