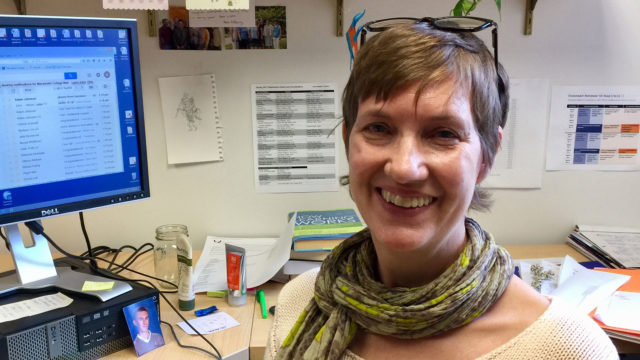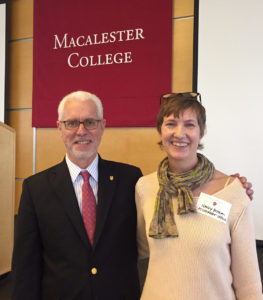 St. Paul, Minn. – Nancy Bostrom, Assistant Director of Assessment, has received the Staff Outstanding Service Award.
Here's the citation:
In celebration of the ways in which her work has shaped Macalester and strengthened departments and programs all over campus, the 2017 Staff Outstanding Service Award winner is Nancy Bostrom.
Nancy's work serves the college—all of it. As assistant director of assessment, her job is to carry out strategies that Macalester has developed to assess student learning outcomes. In practice, that means her work has shaped every academic department on campus. She works tirelessly with students, faculty, staff, alumni, and external reviewers to produce specific, insightful, and actionable evidence to guide policy and programming toward more perfect ends. Her motivation is making sure students experience the educational excellence to which Macalester aspires.
In collaboration with former associate dean of the faculty Kendrick Brown, Nancy's work has helped establish an institutional framework for assessing student learning, in and out of the classroom. Nancy was centrally involved in crafting the college's Statement of Student Learning, the six core learning outcomes that define a Macalester education. She has worked individually with faculty and staff in every academic department to help define goals and develop an assessment plan that fits each program. Were it not for Nancy, Kendrick Brown wrote recently, the campus would not be even one-third as far along in building its assessment culture.
In addition to her work with academic departments, Nancy has also collaborated with people involved in most of Mac's co-curricular programming. She believes deeply that every person on campus is an educator, and she delights in helping co-curricular program staff maximize the value they add to student learning. This year, Nancy also developed and led a yearlong Staff Learning Community that strengthened the assessment capacities of 16 staff members representing programs all over campus. Her dedication to this initiative built confidence and demystified the assessment process for each staff member involved.
What inspires Nancy's colleagues the most is not simply the vast scope of what she does, but how she does it. She's known for inexhaustible professionalism: as one nominator writes, she's "punctual, present, thorough, planning ahead, always prepared—that's Nancy." She's a lifelong learner who completed a master's degree in international education in 2015. Across campus, Nancy is trusted and respected for her integrity as a researcher, colleague, and confidant. Every project she tackles connects multiple stakeholders, and she guides each group of colleagues to see both the big picture as well as the small details. Nancy recognizes that each project has distinctive needs and goals and thus deserves a unique approach, and she takes bold ideas and makes them workable. She's laser-focused on helping others do their best work.
In the words of a few of the nine colleagues who nominated Nancy for this award: "Her fundamental approach to assessment could serve as a model for all of us in our work: be intentional with your efforts, be regularly reflective, put the mission at the center of everything, and never lose what Nancy calls her 'love of finding things out.' Her service to the college has been so wide-reaching in scope, so meticulously executed, and so constructive in spirit that 'outstanding' truly is the best word to describe it."