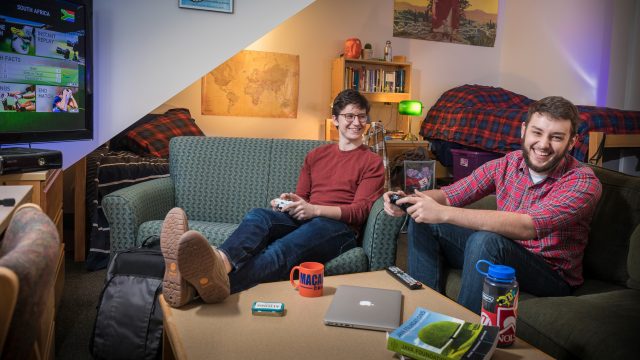 Roommates David Isaacson '19 (Highland Park, N.J.) and Zachary Skluzacek '19 (Montgomery, Minn.) share a "gigantic" room on the fourth floor of Wallace Hall. They also share identical video game skills, says Skluzacek. "We're both terrible."
The guys agree that they are reserved and "super complacent." Both shared rooms with their brothers before coming to college, so they already had some experience with having a roommate.
In other ways, they're different. Isaacson is a philosophy major from suburban New Jersey, who spent last summer working as an EMT (emergency medical technician). Skluzacek is majoring in computer science and applied math and statistics. A Minnesota native, he grew up on a hobby farm and spent last summer working in an auto body shop. They knew each other slightly before room draw because they were part of the same circle of friends.
Sometimes their regional origins come out. "I say, 'Should I turn the lights off?' because I'm from the Midwest," says Skluzacek, "but David is from the East Coast. He just flicks them off." Both laughed at the comparison.
Mac wasn't initially on Isaacson's radar, but he received a letter and decided to check it out. After an overnight visit, he was sold. "I like that it's an urban location, but we still have our own campus. It's a small school and the people are really nice." Skluzacek knew about Mac because his brother is an alum.
Best thing about your roommate?
Skluzacek: "I have a ton of stuff and he has no stuff. Since I live in Minnesota, on breaks I just throw the whole room in the truck and after break I bring it all back."
Isaacson: "I use his things. I don't have a lot of stuff because I don't like to pay to check a bag. And we have no confrontations, ever."
Study away?
Both guys plan to study away next year—in different hemispheres. Isaacson has applied to the University of Cape Town in South Africa, where he plans to study social and economic justice. Skluzacek plans to study computer science in Budapest, Hungary.
Both are thinking seriously of grad school after Mac, possibly medical school for Isaacson.
Free time?
Isaacson took a course at Macalester to become certified as an EMT and became good friends with his classmates. Now he's part of Macalester First Aid Club and is on call for a few shifts a month.
Skluzacek is a leader for the pre-orientation option Macward Bound, which takes new students camping and canoeing in the Boundary Waters Canoe Area Wilderness, a federally protected, one-million-plus-acre wilderness area in northeastern Minnesota.
"It's great. You're in the woods for several days with four or five other people and when you come back to campus, you've already got friends!"