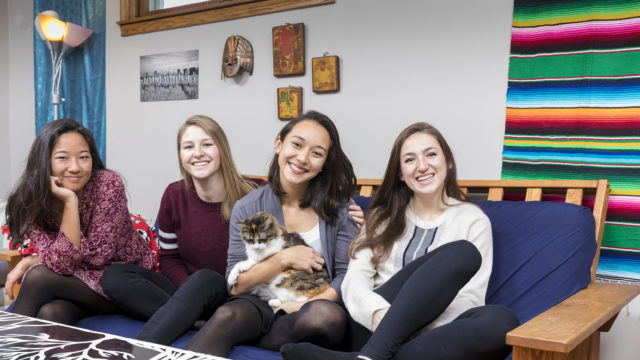 "Macalester is a small school and it's easy to make friends, but being in the city, there is lots of great housing near campus and so much to do." —Jaime Hasama '18
Soccer brought the four women together. Three seniors and a junior, they live together in a cozy house that's an easy walk to classes and practice. Playing a varsity sport has taught them to be focused and efficient, so there is still plenty of time for fun.
"During season, soccer dominates our lives, but no matter how busy we are, we always find time to spend together outside of games and practices," says Michaela McGonigle. "A house favorite is watching Criminal Minds. Another tradition we have is hosting themed birthday parties."
"Rae is a classics major, so for her birthday we had an Ancient Greece-themed party. We decorated the house and wore togas," says Pia Mingkwan. "For Michaela's 21st birthday, we had a gold and black masquerade party, and Jaime's last birthday party was Casino Royale-themed with fancy dress."
Although they do many things together, each also maintains her own circle of friends and academic interests. They share Charlie the cat, brought to St. Paul by Rae's mother, a veterinarian who rescued Charlie and her litter mates.
The women's differences are complementary. Everyone agrees that Pia is the most organized. She coordinates household chores and frequently makes dinner for whoever happens to be around. "Setting up the chores list was a cop-out for me," says Pia. "I like to live in a clean place, but don't like to nag. So the list is a gentle reminder for everyone to participate. It's not on a strict rotation; we often decide who's doing what by group text."
Adds Rae, "We talk a lot by group text."
"Rae is the technical specialist," says Pia. "She knows how to deal with the Wi-Fi, the utilities, the blown fuses. She's highly practical. Michaela is very calm and the rock of the house." Everyone agrees that Jaime, the lone junior, is the most spirited. "I have learned so much living with these girls," Jaime adds. "I'm the oldest in my family, but now I feel like I have three big sisters."
"Macalester is a small school," says Jaime, "and it's easy to make friends, but being in the city, there is lots of great housing near campus and so much to do."
The roommates have had a great time exploring St. Paul and Minneapolis. They've been to the Minnesota State Fair and to U.S. Bank Stadium to see the U.S. National Women's Soccer Team play. Last summer they often enjoyed outings to the famously clean Square Lake outside of Stillwater, Minn. "Having grown up in the Pacific Northwest, I'm used to crystal clear lakes," says Michaela, "so I was fairly particular about where we spent our beach days."
Other adventures included a taco tour of Minneapolis's Lake Street and a trip to St. Paul's Mekong Night Market. They also frequently get together for dinner and Mac events with six football player friends who live nearby.
When the seniors graduate, Jaime plans to take over the house with some other teammates. Rae expects to work for a year and then apply to medical school. Michaela also plans to work for a year, then attend graduate school, perhaps in child psychology. Pia, who is half Thai, intends to spend a year in Thailand helping improve healthcare access for refugee and immigrant populations. She, too, is interested in graduate school, possibly in public health.
As for Charlie—she'll go home with Rae, but knows she's welcome at every house reunion.
The Women of Soccer House:
• Rae Hohle '17 (Bayview, Idaho), classics and computer science
• Jaime Hasama '18 ,(Palos Verdes, Calif.), biology
• Michaela McGonigle '17 (Seattle), psychology
• Pia Mingkwan '17 (Albany, Calif.), international studies