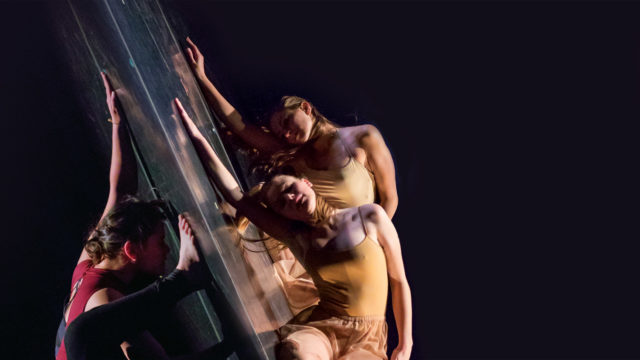 St. Paul, Minn. – The Macalester College Theatre and Dance Department presents Eclipsed, the 2017 Spring Dance Concert, featuring original choreography by students and faculty. Performances are April 28 and 29 at 7:30 pm and April 29 at 2 pm in the Janet Wallace Fine Arts Center, Main Stage Theater, 1600 Grand Ave., St. Paul, Minn. General admission – $7.00, seniors and groups – $5.00, student reservation – $2.00, and ACTC faculty/staff – free. For more ticket information, go online to macalester.edu/boxoffice or call 651-696-6359.
Guest choreographer Darrius Strong's piece, "Chain of Command," creates a world in which seven members are a part of the same tribe. When a person is given power, the question is will they use it for bad or good. Find the leader in the group and observe how this power dynamic might change through out the work. Strong is the artistic director and founder of the Twin Cites contemporary dance company, STRONGmovement.
Student works include: Bo Kim's '17, from CheonAn ChungNam, South Korea, "Words We've Lost," combining martial arts, modern dance, and live vocals to explore "words forgotten from the language of our hearts;" Catriona Leckie's '17, from Pelham, N.Y., "In the Glance of the Sun," exploring the sometimes invisible magnetism that exists between people; Yuri Smith's '18, from Reston, Va., "This Time Wouldn't Be the Last Time," empowering communities to use each other to overcome fear; Megan Maguire's '19, from Eden Prairie, Minn., "Here to Entertain," embodying the meaning of dance as an entertainment form through elements of jazz, tap, and Broadway style movement; Kasia Majewski's '19, from Oregon, Ill., "So She Stares Back," challenging the sexualized female image and empowering the women upon whom it is placed; Meghan Johnson's '19, from Phoenix, Ariz., "Three Windows," using modern and contemporary dance set to music by Nicolas Jaar; Shaylene McCue's '18, from Antioch, Ill., "Remembering June 23rd, 2013, after I locked the door behind you," a dance between two women and their memories; Molly Stark-Ragsdale's '17, from Missoula, Mont., "Alula," a dance-for-camera piece reflecting on the post-human condition by confusing the boundaries between human-animal, and body-technology relationships through movement; Peace Madimutsa's '17, from Harare, Zimbabwe, "Cry of the Phoenix," an investigation into The Apocalypse, an ultimate end and revelation of a new era; Linnea Fox '19, from Wettswil am Albis, Switzerland, Toan Thanh Doan '19, from Quang Ngai city, Vietnam, and Midori Hasegawa's '19, from Tokyo, Japan, "Pendulous," suspending dancer and viewers between spaces and asking how we navigate discomfort of homes and find peace in "dis-belonging;" Ruth Kendrick's '17, from Minneapolis, Minn., "Satin Undertow," exploring instances of contrast in movement: smooth versus sharp, slow versus fast, and harmony versus cacophony; and Colleen Cilwick's '17, from Lewistown, Mont., "Terra Firma" investigating intersections between the natural world and the feminine with Mother Earth as a site of spirituality, healing, and as a symbol in environmental and indigenous resistance.