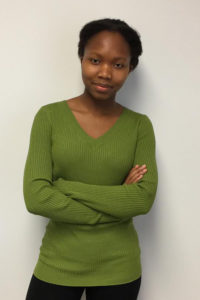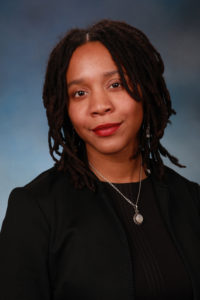 Two Macalester students, Khadidja Ngom '19, from Kaolack, Senegal, and Kava Vasquez '17, from The Bronx, N.Y., have each been awarded a $10,000 grant to undertake projects to promote peace.
The students' grants are from the Davis Projects for Peace initiative funded by the late philanthropist Kathryn Wasserman Davis, who launched Projects for Peace on the occasion of her 100th birthday in 2007. Until her death at 106 in 2013, Davis was intent on advancing the cause of peace and sought to motivate tomorrow's promising leaders by challenging them to find ways to "prepare for peace." Macalester students have completed projects in each of the 10 years of the program.
Ngom's project focuses on a summer camp that will be offered to 50 Senegalese children facing harsh conditions.  The children either have albinism (a group of inherited disorders characterized by little or no melanin production), or are Talibés, child beggars. Both groups are discriminated against and have limited opportunity for education.
Working with partner organizations in Senegal, the project will bring students from Dakar together with children with albinism and Talibés with the goals of increasing sensitivity and awareness of discrimination among young children, while also providing classes in French, (the official language of Senegal) and computing. A second segment of the program will provide art and storytelling workshops as well as vocational workshops in fields such as hairdressing, culinary arts, and tailoring.
Children with albinism face discrimination and often violence, so to protect themselves, they often live in isolation and do not attend school. The Talibés are young boys from primarily rural areas, who are sent to Daaras, Quranic schools. Originally intended to offer free religious teaching, many Daaras send children out to beg, sometimes for hours.
"Peace is not limited to the absence of strife," says Ngom. "It is also rooted in the availability and accessibility of education regardless of one's physical conditions or economic background. Peace is also the ability for children to learn alongside their peers and not be discriminated against."
Having grown up in Senegal, Ngom has witnessed the difficult lives of the Talibés and children with albinism. She developed this project to contribute to efforts to alleviate the hardships these children face.
"Peace is attained by instilling hope into the youth through the provision of equal and inclusive education," says Ngom, "education which will in turn prepare them to tackle social challenges presented by their communities."
The focus of Vasquez's project is a Maputo, Mozambique-based girl's skateboarding initiative for girls aged 7 to 17. The project grant will enable her to provide movable ramps, semi-weekly skate lessons, video and movie nights related to skating world-wide, a mural painting workshop to teach reflection skills and artistic expression. .
Vasquez grew up in The Bronx, where she found skateboarding a practical means of transportation, but one in which girls were rarely welcomed. But that didn't stop her; in fact, she found skateboarding to be cathartic and liberating.
"With every gust of wind that rushes past my ears to the strengthening and meditative kick-push motion that propels me forward, I reimagine myself as a human being whose relationship with her body is characterized by self-love rather than antagonism," Vasquez said. "Every time I find myself on the ground after falling from my skateboard, I have a choice to make: I can either quit, or I can transform my shame into strength and try again. Peace for me is defined by this in-between space between falling down and getting back up."
After studying abroad in South America, Vasquez felt compelled to bring skateboarding to young women to empower them and inspire positive social change. In the course of her research, she contacted the Mozambican Skate Association, a Maputo-based non-profit organization that develops youth-oriented skateboarding activities to promote healthy, active lifestyles, cultivate community, and combat the negative impacts of drugs, illness, illiteracy, and crime. When she learned that the organization had no female leadership to work with girls, the seeds of her project took root.
"Working with the existing skateboarding organization, we will co-create a future in which young women feel empowered not only to skateboard, but also to honor their passions, live their truth, and transform their failures into sources of peace and strength."
Vasquez was also awarded a Thomas J. Watson Fellowship, a one-year grant for purposeful, independent exploration outside the United States that will complement her Maputo, Mozambique project. Her Watson is called "Skate(board) into the Sun With Me," and with it she'll travel to Sweden, Spain, Cambodia, South Korea, and South Africa. During her Watson year, Vasquez will explore skateboarding as a vehicle for female empowerment.