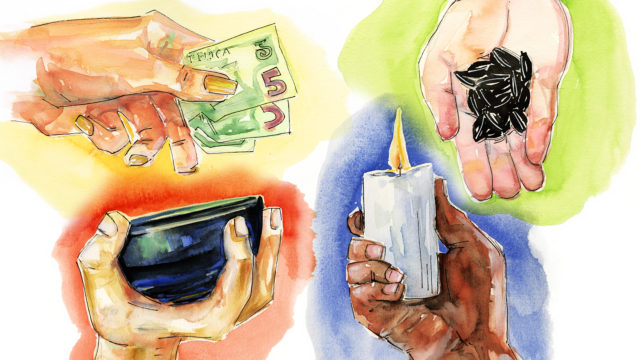 Are people generous out of compassion or religious duty? Is giving somehow better if done anonymously? How are traditions related to giving different in Islam, Christianity, Hinduism, and Jainism?
These are some of the questions explored in the course Global Generosity, taught by Professor Jenna Rice. Students from a variety of majors were drawn by the course description, which reads, in part:
"From Italian Mafia dons to famous American philanthropists; from the knitting of 'trauma teddies' in Helsinki to gift shopping in London; and from ceremonial exchange rings in Melanesia to the present day global refugee crisis: this course will investigate how generosity is understood and practiced in global perspective."
Although the course meets Monday evenings from 7 to 10 p.m., the time passes quickly with presentations by class members, as well as Professor Rice, and discussions of readings from a range of thought leaders.
"Each week a few students give a presentation on a subject of their choice that is related to that week's topic of study," says Rachel Newstadt '18, a political science major from Readington, N.J.  "I get to hear about so many aspects of the topic that I otherwise would never have known. The discussions sparked by these presentations are also fascinating, as everyone brings their own ideas and opinions to the table."
At one recent class meeting focused on Islamic giving, Patrick Blomgren '17 (Bellevue, Wash.), an international studies and political science major,  presented his research on begging by Talibes (students) in daaras (informal Koranic schools) in Senegal, a country where he had studied abroad. Brendan Hebert '17 (Paris, France) followed with his study of Islamic microloans, a form of generosity in that interest is not charged on the loans.
"I got the idea to teach this class while writing my dissertation about charity and humanitarianism in Lebanon," says Professor Rice. "I found myself participating in this century-long conversation across disciplines about why people give, what generosity truly entails, and, as Malinowski prompted us to ask nearly a century ago, is there ever a truly free gift?
"Part of what's exciting about teaching at Mac is that students are ready for these wild interdisciplinary questions; so we had an amazing conversation with a visiting historian of science about the altruism debates in evolutionary biology, and read through classical economic theory about the welfare state—which even today forms a major part of the policy discourse about the Affordable Care Act."
Sociology major Nick Bascuñan-Wiley '18 (Raleigh, N.C.) was inspired to take the course because he had previously taken Rice's course on Muslim Women Writers and found Rice to be "a fantastic professor and an important resource." Rice also serves on his honors project committee and has invited him to speak on panels. After graduating, Bascuñan-Wiley is pursuing a PhD in sociology at Northwestern University and this course, he says, "confirmed what I want to do next year. I met so many interesting authors and developed the tools to assess what they wrote." And then there are the discussions.
"The discussions can become heated," says Bascuñan-Wiley, "but they are never disrespectful; that's just how Mac is."
International studies major Allie Korbey '17 (Brooklyn, N.Y.) was drawn to the course by her interest in corporate responsibility and how corporations can function in a way that is sustainable and culturally aware. After graduation, she is joining Estée Lauder Companies. Furthermore, she notes that looking at generosity around the world helps to counter depictions of certain societies as violent or blind followers of religion.
"Re-framing these societies as generous, as nuanced and complex in their theories of giving," says Korbey, "has the capacity to change the one-sided, black-and-white conception individuals in the Western world often have of these diverse societies."