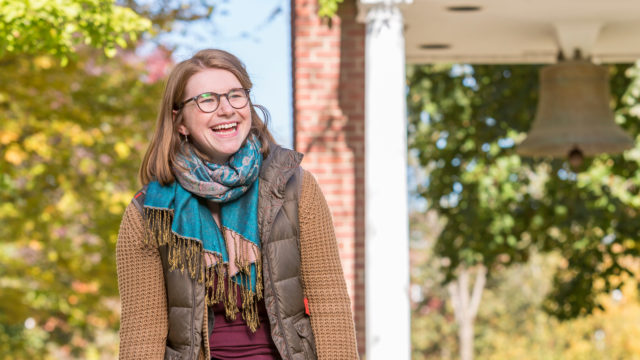 When Merrit Stüven '17 (Munich, Germany) ran unsuccessfully for a Macalester College Student Government (MCSG) position as a first-year student, she figured the loss closed the door on one potential path in her Mac experience. "I thought, 'All right, that's not something I'm going to do in college,'" she says.
But the door hadn't been closed after all. Stüven tried again in her junior year, and this time she was elected. And this spring, when she walks across the stage at Commencement, the political science major will wrap up her year as the organization's president. "It's been so rewarding to get to contribute positively to this institution and know that some of the things I'm doing now are going to impact students after I'm gone," Stüven says.
In her last semester at Mac, we asked her to reflect on her experience here.
Human rights
"I've grown my passion for human rights through Macalester's concentration in human rights and humanitarianism. I love the program that Wendy Weber built here. I mainly study women's rights and education access. After graduation I'd love to be at a nonprofit or NGO doing work in those issue areas, but I'm also open to trying some new things and am trying to figure out what type of grad degree I want to get."
International Student Programs
"I've worked in the International Student Programs office since my first year, after participating in international pre-orientation and the Ametrica project, a program for international and domestic students. I work in the office and am also an ISP mentor. Aaron Colhapp, the ISP director, has been such an important person in my life at Mac; over winter break he was in Munich for a wedding and I got to meet up with him with my parents. The ISP staff and students are my Mac family."
Student government
"I've become very protective of MCSG. It's a community of people who really care, and I've been trying hard to help them do the things they care about. I get to see people come together—and sometimes clash—and work collaboratively to create positive change. There's a lot of work still left to be done, but I think we took some good steps this year. Regardless of what the final decision is, I'm especially proud of the test-optional project.
I've also met so many administrators through MCSG, and I hear their perspective on Mac and learn what changes are possible and what aren't. That's given me the tools to advocate for others, and for myself. They've been great mentors."
MacConnect
"I went to Washington, D.C., on a MacConnect trip junior year. It was low-pressure and fun, but it had these incredible results for me. An informational interview with a Mac alum connected me to other people in human rights and women's rights organizations, and I got an internship in development and communications with the Kakenya Center for Excellence in Washington, D.C. Before MacConnect, I had all the tools and I knew what I was supposed to do, but I didn't have the confidence to do it. Workshopping my questions with the MacConnect group made me a lot more confident. I'm more comfortable reaching out to people now."
Off-campus meal plan
"Cooking helps me relax. I cook all types of things, some of my Mom's recipes, but also by now a lot of my own. I like trying new things: I recently made doughnuts from scratch, which was a lot of fun. I love cooking for other people. A lot of my best memories at Mac are from long dinners with my best friends after a long, stressful week."
Advice to new students
"What you do as a first-year doesn't have to be what you do for the rest of your time at Macalester—who you are can and should change. And you will mess stuff up, you will go back on your decisions, and that's very okay. I'm still stubborn and over-committed, but I've had some really important learning moments. Those taught me what my priorities are. You don't learn that until you've done it wrong a couple of times."
Mac friendships
"People come here from all different backgrounds and have so many wonderful things to share. I've settled in with people I really cherish and want to know for the rest of my life. That's carried me through a lot."
Commencement
"I can't yet imagine being away from this place next year and not being around these people every day. That's going to be a huge shock after graduation, to not just get to come to campus and talk to these people who inspire and push me and make me feel at home here. But these relationships are going to continue past Mac. I'm excited to see where all of these people go."