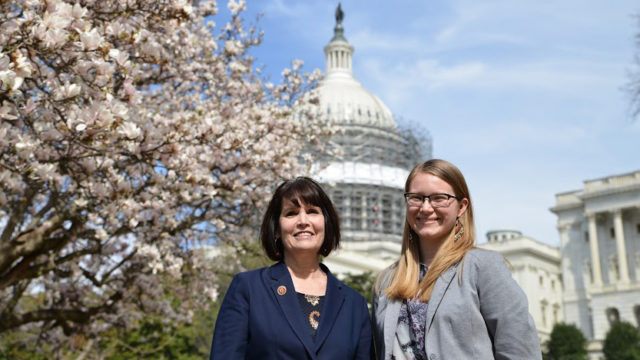 "Because I had already completed an honors project in American studies, I knew I would be able to complete this kind of research, which included interviewing elders and knowledgeable community members about foods they ate growing up and medicines they used."
–Abaki Beck '15
Abaki Beck '15 (Missoula, Mont.) grew up picking plants for traditional Blackfeet medicine with her mother, aunts, and grandmothers in Montana. "Many members of my family continue to use traditional medicine—roots, teas, rubs—on a daily basis for everything from arthritis to helping with a cold," says Beck.
Now, with the support of a $10,000 grant from the First Nations Development Institute, she is researching and preserving Blackfeet cultural knowledge. Her goals are "to preserve elder knowledge of Blackfeet foods and plant use and to educate and engage the next generation."
The Blackfeet Nation is one of the 10 largest tribes in the United States. The Blackfeet reservation is located in northwest Montana, where it is bordered by Glacier National Park to the west and Canada to the north.
As a student, Beck played many roles on and off campus. For three years, she worked for the Department of Multicultural Life planning and managing programs at the Cultural House.  She interned at Penumbra Theater, one of the nation's premier African American theaters, and served as a Barbara L. Anthony Fellow at the Indian Law Resource Center in Helena, Mont.
Beck was also a leader of PIPE, Proud Indigenous People for Education, at Macalester. "At the end of my junior year, PIPE decided we wanted to have tribal flags represented in Café Mac alongside the flags of other sovereign nations," says Beck, who advocated for adding the flags, "and the next year, tribal flags were represented." In 2013, she and two other students produced the first pow wow at Macalester since the 1990s. A pow wow is a Native American cultural event featuring singing, dancing, socializing, and food.
Following graduation, Beck worked in the Washington, D.C., office of U.S. Representative Betty McCollum, first as the Udall Native American Congressional Intern, then as assistant and legislative correspondent for the congresswoman.
As a Udall Intern, Beck was required to conduct and present a research project. "Luckily, I was able to expand on my honors project work from Macalester—solutions to the epidemic of Native American youth suicide—but from a policy perspective." She examined tribal access, and lack of access, to federal youth suicide prevention resources. "It was exciting to continue work that I already had a certain level of expertise in, and it was directly useful to the congresswoman."
When Beck left McCollum's office, it was to pursue her research into food sovereignty and traditional medicine. "My research on food sovereignty was energizing to me for a few reasons," says Beck. "Native Americans, in particular, have high levels of nutrition-based ailments, like diabetes, heart disease, and obesity. Access to healthy food is key to overall individual and community health. What we eat, where it comes from, and how it is processed are connected to health and well-being on a very basic level."
Beck attributes this to a variety of causes including poverty, dependence on government food, the loss of traditional food knowledge, and the lack of quality grocery stores. The reservation, she says, is about the size of Delaware, but has only two quality grocery stores—a true food desert.
"Because I had already completed an Honors project in American studies, I knew I would be able to complete this kind of research, which included interviewing elders and knowledgeable community members about foods they ate growing up and medicines they used."
In recognition of her work, Beck was named one of Montana's 25 Under 25 by the Forward Montana Foundation and nominated as a Changemaker at the White House United State of Woman Summit. In November, she was a youth delegate to the White House Tribal Leaders Conference. In the next few years, Beck hopes to attend graduate school in public health or public policy.
"Majoring in American studies was a transformative experience," says Beck. "It was exciting that I could major in something I love studying and talking about—social justice and social change—and apply this not only to activism, but to a career."
Beck's report: Ahwahsiin (The Land/Where We Get Our Food): Traditional Ecological Knowledge and Contemporary Food Sovereignty on the Blackfeet Reservation
Saokio Heritage website: http://saokioheritage.com/