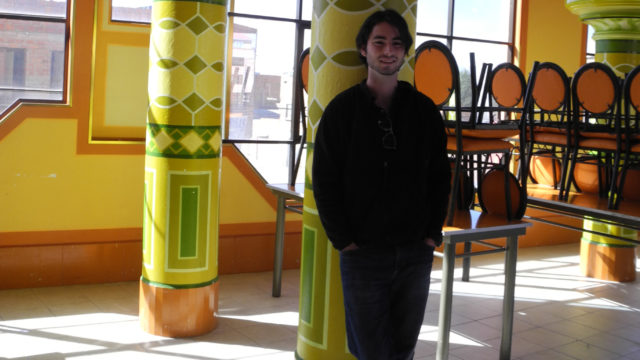 Study away semesters are always an exciting part of college, but for two Mac students, the family connections they had with their host countries made the visits even more meaningful.
Corbin Dodd '18 (Palo Alto, Calif.) and Daniel Saphiere '18 (Mazatlan, Mexico) each chose a country with important associations to their own family histories and cultures. Both men studied abroad last fall.
Dodd, a geography major/music minor, chose to study in an SIT program in Bolivia, the same country his great-grandparents had fled to from Nazi Germany just before World War II. His maternal grandmother was born in Bolivia, spending most of her childhood there before emigrating to the U.S. in the early '50s. "She was really happy I went there to study and was able to connect with that side of my family's heritage," Dodd says.
In the late '30s and 1940s there was a significant European Jewish diaspora in Bolivia, although many of these immigrants left for the U.S. and Israel in 1952, during the Bolivian revolution. Dodd's grandmother lived in LaPaz, which he was able to visit during his time in the country. He lived in the smaller city of Cochabamba with a host family who spoke no English. "My high school Spanish was a little rusty so I had to improve my Spanish fast to communicate with them," he says.
While living in Bolivia, Dodd Skyped with his grandmother several times, during which she suggested places for him to visit and outings he might take.
Saphiere's connection to Spain is slightly more tangential but equally meaningful to him. When he was in middle school, Saphiere moved with his parents from Kansas to Mazatlan, Mexico. His parents had been married in Mazatlan and had many friends there. Following a health scare experienced by his mother, the family decided to leave the Midwest for a city with better weather and a more laid-back lifestyle.
Saphiere—by age 20 fluent in Spanish and working as a Macalester Spanish-lab instructor—knew he'd be most comfortable studying in a Spanish-speaking country. He chose to spend the fall semester in Madrid on an IES Abroad program, living with a host family. He describes feeling at home right away in Madrid. "What I liked most were the similarities between Spain and Mexico," he says. "They have the same warm, friendly, extroverted culture, and are more collective, less individualist as a people. I feel less isolated in both countries than I do in the U.S."
After lunch many days, Saphiere says, he'd sit and talk with his host mother for hours. He gave her two teenage daughters English lessons, too. His host mother, noting he was from a coastal city, made a point of cooking fish to help him feel at home.
His host family felt at home, too, with Saphiere, in part due to his expressive face and tendency to use his hands while talking. "My host mom said I just 'got' Spanish culture even before I arrived."