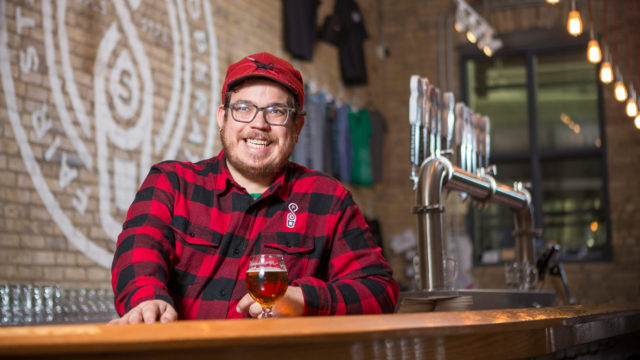 Prize-winning Fair State Brewing Cooperative, cofounded by Matt Hauck '06, is booming.
Matt Hauck '06 admits to being a little scared. The brewery he cofounded with Evan Sallee and Niko Tonks—Fair State Brewing Cooperative—has been winning awards, paying the founders actual (if not lavish) salaries, and garnering fans across Minnesota and beyond. Now they are taking a big step: expanding beyond their popular Northeast Minneapolis location to develop a 25,000-square-foot brewing site in St. Paul's Midway district, opening this spring.
Although "the Northeast neighborhood has been great for us," says Hauck, director of operations, the larger production facility will allow the co-op to increase its capacity by five times and establish its own canning line—a money-saver. Fair State will keep its taproom at the Central Avenue location and also use that facility for developing new brews. Although by law, a brewery can have just one taproom, the Fair State owners hope to host occasional tastings and tours at the St. Paul site.
It all began with three guys who met playing rugby—Hauck for Mac and Sallee and Tonks for Carleton. A year after they graduated, the three were brewing beer in the backyard of their Minneapolis four-plex. By 2009 they had moved on to graduate schools, but reconnected at the South by Southwest music festival in Austin, Texas. There they visited Black Star Co-op Pub & Brewery, the first cooperative brewery in the U.S. Before long—over a few beers, naturally—they were hatching plans to launch Minnesota's first co-op brewery.
In this case the "co-op" model is similar to that of a grocery co-op. A member owns a share in the company and receives certain benefits. Fair State members get discounts during daily happy hours; first dibs on special release beers; input on recipes for new beers; and a free pint on their membership anniversary. Members also elect and can run for the board of directors. Eventually the board hopes to award its members dividends, but at this point all profits are going toward growth, Hauck says.
In 2013, when Fair State signed the lease for 2506 Central Avenue NE, they had 125 members. "When people started writing checks, the idea became real," says Hauck. A year later, they had doubled their membership. By September 2016, there were more than 900 members and they're adding, on average, a new member each day.
Among the early members are Hauck's classmates Neely Crane-Smith Heubach (member #5), Laura Nethercut Sleck (#6), and board member Julia Gallagher (#95), all active since Fair State's inception.
Because the Minnesota Legislature passed the "Surly Bill"—championed by Surly Brewing founder Omar Ansari '92—in 2011, state breweries can sell pints of their own beer on site, thus making those operations much healthier financially.
Even so, opening a new brewery in an increasingly crowded industry was a bold move. "When we wrote our business plan four years ago there were 40 breweries in Minnesota," says Hauck. "Now there are more than 100." Not only does that mean competition for market share; it means competition for good employees.
However, Fair State, which has 10 full-time and five part-time employees, is doing well on retention, having lost only one employee (and she left town). For its full-time employees, the company pays 100 percent of medical and dental coverage and provides four weeks vacation. That tends to inspire loyalty—but there's more to it than that. "We work hard at being a good place to work, to have a culture in which people feel welcome, and where we can help them find what they're really good at," says Hauck.
Part of that workplace culture includes contributing to the neighborhood. Nearly 10 percent of Fair State's net revenue is donated to charity, a different one each month. Past recipients have included the Northeast Minneapolis Tool Library and Free Bikes for Kidz.
None of that matters, though, if people don't want to drink your beer. That's not a problem for Fair State. In 2015, Ratebeer.com, a premier beer-rating site, named it the top new brewery in Minnesota and one of the top 10 in the world. They've also received "best of the fest" awards at several festivals produced by the Minnesota Brewers Guild.
So far Fair State has produced 78 different beers and they're always looking to develop the next great brew. They've found an unexpected niche with their sour beers. Among their most popular brews: Roselle (a hibiscus sour—the first Minnesota sour available in cans); Pils (a crisp, clean German-style pilsner); and Saison de Pounde (a French farmhouse ale-style).
The demand for Fair State's beers has spread. Beyond their taproom (open to everyone, member or not) it can be found in bars and liquor stores in the Twin Cities, Duluth, St. Cloud, Brainerd, and Western Wisconsin. Meeting the growing demand prompted the St. Paul expansion.
So what would Hauck have done differently if he'd known in 2012 what he knows today? "Before we opened, I would have 1) learned more about sales, and 2) saved more money and relied less on credit cards for financing. Also, I would have moved to Northeast Minneapolis sooner. I just fell in love with this neighborhood."