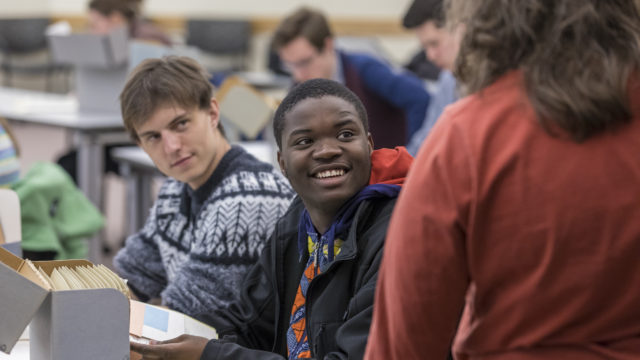 "Can we make the website go live today? Can we do it?" political science professor Zornitsa Keremidchieva asks 12 students seated around a table in her Immigrants and Refugees in Minnesota classroom, and they nod. "Then off you go!"
She's talking about an interactive digital timeline the class is building for the International Institute of Minnesota (IIM), an organization that supports Minnesota's immigrants and has resettled more than 25,000 refugees. The Macalester project—which charts national immigrant policy, Minnesota immigration events, and IIM history—will become part of a 2019 exhibit celebrating the organization's 100th anniversary. It's also part of Keremidchieva's broader charge to explore how immigration policies, procedures, and narratives have shaped lives in Minnesota and around the country.
Over the course of this class session, the students wrap up their work on the section on Minnesota immigration. The earliest posts describe relations among the Dakota and Ojibwe tribes and early French settlers as well as 18th-century legislative acts regulating immigration. Nearly 200 years later in the timeline, entries tell the stories of Lao, Cambodian, Afghan and Chinese immigrants.
By semester's end, the class will have produced hundreds of entries. Through their work, the students broaden their perspective on the communities around them—and the events that shaped each immigration wave. "We're showing the rich cultural history of Minnesotans who came here from places around the world," says Kamil Ali '18 (White Plains, N.Y.).
The Macalester-IIM partnership is a collaborative effort among several campus offices, and class sessions are a team effort, too. That's intentional: Keremidchieva structures most class sessions as if she's part of a research team, so the students learn the workflow of being part of a team instead of individual work. In this class session, they're helping each other with revisions, piping up to ask Keremidchieva for help occasionally. "Everything we do is collaborative," says Ana Diaz '18 (Chicago), who says a strong community has developed in the class, which includes Minnesotans as well as students from across the United States and around the world.
With heavy emphasis on building skills in archival research and digital liberal arts tools, the upper-level class prepares students for the work they'll encounter in graduate school or independent research during their semesters abroad. They delve into archives—both online and off-campus—and map out the timeline. Along the way, Keremidchieva sees a shift in how students view the assignment. "They go through the research process—the back and forths, the pauses, the vagaries—and they stop thinking like students and start thinking like scholars," she says. "Students tend to think, 'How do I do what my professor wants?' The scholar mentality is, 'What does the work demand, and how do we do it justice?' They think about their learning in a new way."