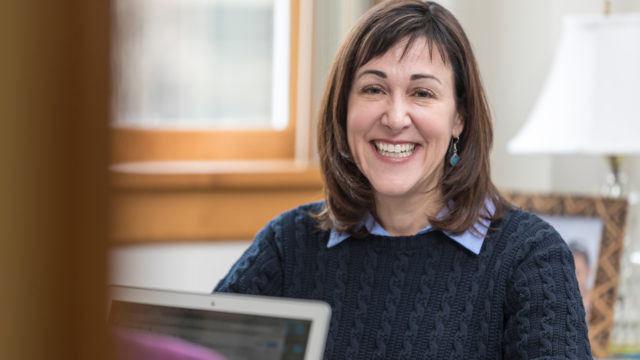 Global health is an increasingly popular field of study at Macalester, and Christy Hanson, associate professor of international studies, is at the center of it all. Hanson came to Macalester in 2011 as the Hubert H. Humphrey Distinguished Professor. For the next three and a half years she was dean of the Institute for Global Citizenship, rejoining the faculty full time in 2016. Before coming to Mac, she was Chief of the Infectious Diseases Division for USAID, and also had worked for the World Health Organization and World Bank.
Q: Was it hard to leave global health to enter academia?
A: I'm still an active practitioner of public health. All my scholarship time goes to research and policy development work in support of Ministries of Health in low-income settings. Currently, I am supported by the Bill & Melinda Gates Foundation and have seven students working with me on a multi-country project.
Q: What is the Gates Foundation grant all about?
A: We're looking into the gaps between how people seek care when they are sick and how and where services are delivered. We are essentially trying to understand why health systems aren't reaching some patients who we know need care. The methodology that I developed is called "Patient pathway analysis." Right now we're supporting countries to undertake patient pathway analyses and to use the evidence to inform policymaking. In the pilot project we're supporting six countries—Kenya, Indonesia, Ethiopia, Pakistan, South Africa, and the Philippines. These countries will use our findings to help them better deliver infectious disease services. Our aim is to reach the marginalized and poorest in each of these countries.
Q: Does this work require a lot of travel?
A: I am always out in the field when classes are not in session. During the academic semesters I work remotely. For example, I was on a Skype call with a lab manager in Kenya yesterday, and one of our student researchers and I recently spoke with public health experts in Ukraine.

Q: Do students travel with you?
A: I have had students travel with me every year to U.N. meetings in Geneva and partner meetings in Washington, D.C. I see my students as collaborators. They are not merely observers in these meetings; they help prepare presentations about our work, participate in discussion sessions, etc.
Q: What do you enjoy about teaching?
A: My favorite part of my job at USAID was mentoring junior staff members. I had guest lectured a lot but never taught full time. So I tried it for a year and totally fell in love with teaching and with the students here at Macalester. I love how excited they get about public health. They make me a better public health practitioner as they challenge me to think critically about my field and stay on top of advances. Students bring fresh ideas, wise insights, and energy to the work. I believe a liberal arts college is a good training platform for them.
Q: What classes do you teach?
A: I teach Introduction to International Public Health; Introduction to International Studies: Pandemics and the World; Poverty, Health and Development; HIV/AIDS: History, Politics, and Evolution of a Pandemic; and a senior seminar on epidemics.
Q: How did you end up in this field?
A: As an undergraduate I wanted to go into human rights law. I interned at the World Health Organization investigating human rights atrocities committed against people with HIV/AIDS. My mentor suggested to me that since I had a passion for health as a human right, I should pursue public health policy, as the field was more tangible than human rights law. So I switched gears, earning a master's degree in public health and a PhD in health economics. Before USAID, I worked at the World Health Organization in Geneva, covering Africa. I also worked for the World Bank in Washington, D.C, and Kenya. I've spent my whole career trying to understand the health problems facing the world's poorest and most marginalized people.
Q: What do you find distinctive about the Macalester student body?
A: I enjoy the diversity and exceptional caliber of our students. Having such a large cohort of talented international students on campus brings a wide range of perspectives and lived experiences into the classroom. Many of our domestic students also opt to study away, and come back eager to share their perceptions of differences around the world. We have such vibrant and thoughtful discussions in my classes. Our students develop an emotional intelligence about different cultures that makes the college a better place. I also like teaching at a liberal arts college because public health is an interdisciplinary field. Everyday I use subjects across the spectrum, so having students who are political science, economics, anthropology, etc., majors enriches the discussions and depth of learning.
Q: How do you run your classes?
A: I spend a third to half my time lecturing, but I do it at the end of each class, providing a basis for readings and work I want students to do on their own. We usually spend the first part of each class digging into the readings. I also like to do simulations and case studies. For example, I bring in data collection tools from Kenya and make the students pretend to be patients and health care workers. This allows them to understand where data come from and the challenges of obtaining reliable data.
Q: What else should people know about global health at Macalester?
A: The college does a remarkable job of finding internships for global health concentrators, as well as multiple study-away programs that focus on global health. We also work hard to find funding for students so they have opportunities for grants, fellowships, and independent research.
Q: You're going on sabbatical next year. What will you be doing?
A: My family is heading to Seattle so I can further my work with the Gates Foundation.