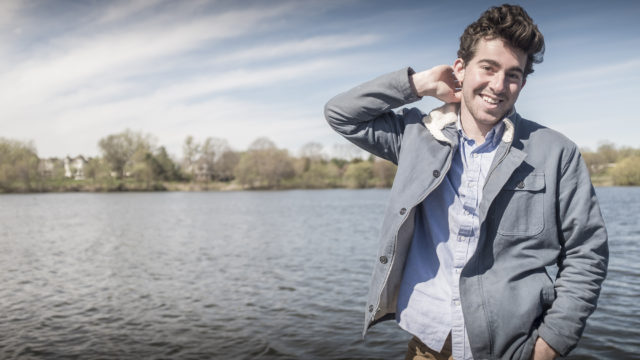 Whatever your areas of interest, there's an internship with your name on it. Two Mac students told us about their very different experiences.
Izzy Miller '17
San Francisco
Environmental studies
Invasive Species Market Evaluation Intern
CD3 Station, St. Paul
It's fun to work with a company that's just starting to take off—things change quickly and there were always new developments and new tasks coming at me.
After interviewing for my internship position at CD3 Station, I knew it was exactly what I'd been looking for in an internship, as it encompassed both my background in environmental studies and my growing interest in the economic side of sustainability. I wanted to look behind the curtain of sustainability in the private sector, which is a lot harder to find than the nonprofit focus most environmental studies internships take.
CD3 Station is a startup that aims to create an easy-to-use cleaning station that will be placed at boat ramps to facilitate the proper cleaning of aquatic vehicles and prevent the spread of harmful, invasive aquatic species.
Most of the time, I worked remotely. I conducted general market research, but also mapped invasive species populations in target areas, researched specific case studies, and did other side projects.
It's fun to work with a company that's just starting to take off—things change quickly and there were always new developments and new tasks coming at me. The work itself was great, but by far the best part of my internship was working with my supervisors. They provided me with so many resources, from guidance with class projects to general post-grad advice.
Getting real-world experience and being able to pick the brains of professionals is an unbelievable resource. You're also a valuable asset to whatever organization you work for, and it's a really good feeling to do cool work that's accomplishing something good.
Shay Gingras '17
Eastford, Conn.
International studies
Refugee and International Health Intern
Minnesota Department of Health, St. Paul
I found this internship position through my Off-Campus Student Employment job at Planned Parenthood. There I met a volunteer who works at the Minnesota Department of Health. When I told her about my interest in public health, she put me in contact with my internship supervisor. We set up an informational interview and a year later I began as an intern at the Refugee and International Health Program at the Minnesota Department of Health.
My work focused on outreach, acting as a liaison between the Department of Health and various immigrant and refugee groups in the area. I prepared a number of cultural information sheets, which gave me the opportunity to learn about the many different communities within the Twin Cities. I also researched malaria cases in Minnesota that occurred after people visited friends and relatives in West Africa and I helped coordinate events related to domestic violence in Asian Pacific Islander communities.
Because I got this internship through an informational interview, I realize the importance of networking. For students who want to pursue an internship like mine, I think the best advice I can give is to keep in touch with the connections you make and take advantage of opportunities that come your way.