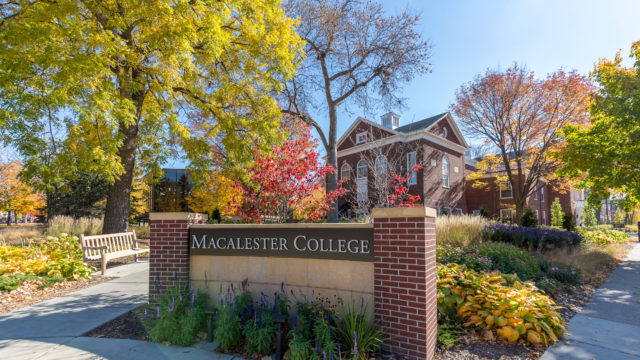 Macalester College has a long-standing tradition of sustainability, particularly as it relates to Macalester's broader commitments to internationalism, multiculturalism, and service to society.
As outlined by the Macalester College Sustainability Plan, the college has committed to five overarching goals that, when complete, will be a notable demonstration of Macalester's commitment to sustainability.  The college has committed to be carbon neutral by 2025; achieve zero waste by 2020; provide 30% 'real food' to campus by 2020; and enhance sustainability education inside and outside the classroom – using a living laboratory model whenever possible.  All of these goals culminate in Macalester's fifth goal of collaborating with the community, including other institutions, to advance sustainability efforts in higher education.
We asked college sustainability manager Suzanne Savanick Hansen how well Macalester is doing in moving toward its green goals. Here's what we learned.
Zero Waste by 2020
That doesn't mean no waste. The international standard is to reduce by 90 percent the waste sent to landfills and incinerators (baseline: 2008 waste). In 2016, the college diverted 77.6 percent of its waste into composting, recycling, and pig food.
Climate Neutrality by 2025
That means no net greenhouse gas emissions. This is challenging because it includes all travel, as well as energy use, which fluctuates with the weather. Since Mac signed the American College and University Presidents Climate Committee in 2007, it has reduced its greenhouse gas emissions by nearly 20 percent.