Our get-real guide to getting involved in public life
If you've got a facebook feed, a newspaper subscription, or a television, you know that everybody—and we mean everybody—has an opinion on our country's most recent presidential election and current administration.
But talk is cheap when it comes to civic life. Macalester alumni have long paired strong opinions with real action that helps make their communities and their country the best places they can be.
If you're still on the sidelines—and don't want to be—Mac alumni and experts are here to help. They share the best ways to get involved in our new political world, no matter what your specific beliefs are. They share the tactics that work, the feel-good actions that simply waste time, and the importance of taking part in our messy, beautiful democratic experiment.
Get elected
Gene Stump '74 has always been involved in politics—he was in student government at Macalester, helped a friend run for mayor, and was a regular attendee at city council meetings in his hometown of California City, Calif. But in 2016, he went bigger: he got on the ballot for city council, and he won.
The seed was planted, he says, by another Mac politico—former Minneapolis Mayor Sharon Sayles Belton '71. Sayles Belton was Stump's RA when he lived in Dupre, and they've been friends ever since. Years ago, when he asked her how she ended up as mayor, she explained that she got her start as a city council member. Last year he decided to follow the same path.
Stump offers his best advice for people who are inspired to run for office today.
1. Go in for the right reasons. "Run for office because you want to make change, and because you want to do what is right for your constituents," he says.
2. Get ready for red tape. "I had to get 25 signatures to get on the ballot. I had to get written permission from anyone who put one of my signs on their property. I self-funded, but there are a ton of rules about funding if you're raising money from others."
3. Promote, promote, promote. "I'm a member of the VFW and American Legion, and my band, B-Sharp, plays locally, so lots of people know me. But I still started a Facebook page, put together a website, and made business cards with my face on them."
4. Get to know the insiders and get their advice. "I registered with a number of different organizations, including the League of Women Voters. Our former mayor told me how to saturate the area near polling places with signs on the night before election. These things helped."
5. Be prepared to discuss minutiae. With everybody. "People recognize me, so they're always coming up and telling me about problems with their water bill, or about an abandoned house in their neighborhood that needs to be looked at. And that's great! I'm doing this because I want to help people."
Get an official's ear
Yes, you should continue to make those calls and send those emails, says Ken Iosso '87, aide to Ramsey County Commissioner Rafael Ortega. As long as you're sending your missives to the officials who actually represent you, they are definitely taking note. (Forget about the online petitions; in general, they're worthless.)
And if you really want to make an impact? Put in the time to get to know your officials and the issues. "The advice I'd give anyone who wants to impact public policy is the same advice I'd give a beginning lobbyist," he says. "Do the work so they know who you are."
For example, go to precinct caucuses or local conventions, which are open to anyone. Agree to knock on doors for elected officials so they'll get to know you by name and will respond to your specific concerns.
Get to know—inside and out—the issues you care most about. Elected officials can't know every detail of every policy that's important to their constituents, but if you take the time to offer perspectives beyond a simple copy-and-paste email, you're likely to get more serious consideration from your representative.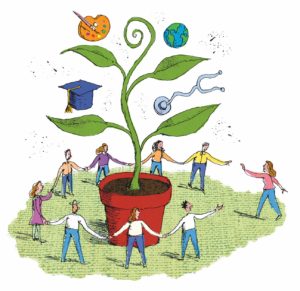 In the end, the best way to influence politicians is to do the hard but human work of connecting with them in an authentic way. "There isn't anyone—not even lobbyists—who can snap their fingers and get elected officials to do what they want them to do," he says. "Their main power is that people will meet with them and talk with them."
Put in the work and you can have that super power, too
Join a "giving circle"
We don't all have the financial might of the Koch brothers to help us influence politics. However, starting a "giving circle" can mimic that financial power without decimating your pocketbook, says executive director of the Northeast Minneapolis Arts Association Dameun Strange '95, who has worked in a variety of fundraising and philanthropic roles. Here's how:
Find or start a group. A giving circle is a group of individuals who come together to donate money into a pooled fund. The group works together to decide where the money should go and how to support the charitable organization[s] they've chosen. If the organization is a local one, members might opt to reinforce the funding with a volunteer commitment. "In these cohorts, people can really focus on their core values with like-minded people," says Strange. "And you can have a direct impact on the areas you're trying to fix."

Think bigger. The benefits of such groups go beyond multiplying the financial impact of a gift; they also allow members to talk about philanthropy in structured ways.

Zero in. Giving circles prevent the scattershot approach that most people have to donating money. You can imitate this disciplined focus by confining your giving to on one or two nonprofits, thus making a bigger impact than you would by sending small checks to a dozen organizations.

Align your life, money, and values. In the end, says Strange, giving is always about more than money. "Think about what your values are," he says. "Make sure that whatever organization you give to really aligns with those, and you can have a tremendous impact."
Read more about giving circles here: https://headwatersfoundation.org/get-involved/join-giving-project
Organize a protest
Josie Ahrens '14 has been participating in protests all her life. At Macalester she organized events to try to persuade the college to move its money out of Wells Fargo Bank. Today, she's involved in Showing up for Racial Justice. In this excerpt from a longer conversation, she shares what it takes to organize a successful protest.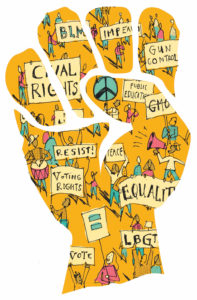 "The idea of taking direct action to effect change is in my blood: I grew up in a union family in Los Angeles, and went to marches and rallies and protests with my dad. I grew up thinking it was normal for people to occupy public space to demand respect and rights.
"First, it's important to understand that a protest is just one piece of a much larger effort—and sometimes it's not even necessary. For example, at a big school like the University of Minnesota, the only way to get the administration's attention might be by picketing in front of an administration building. But at Macalester, students can email President Rosenberg and he will get back to them within a day. "Beyond that, you've got to start with a strategy. For example, maybe you want to get media attention for a specific issue. Maybe you want a certain outcome, like preventing a pipeline from being built. You've got to think about how what you're doing will help you achieve that goal. If you want media attention and get it, do you know what your message will be?
"Second, think about how the protest might use symbolism. When Occupy Homes held a rally to prevent a family from being evicted, we marched with the door of their house from their home in South Minneapolis to City Hall. That was dramatic.
"Third, think about logistics. You'll need a specific route and alternate routes in case the police barricade a street. You might want to have monitors wearing neon vests to make sure people are moving, cars are stopping, and no one is getting dehydrated. And if you're planning for people to get arrested—and arrests are almost always planned—you might want to have bail money set aside or legal advice on call.
"Even if you don't want to organize a protest, you can always attend one—it's your right! I know so many people who are—for the very first time—calling and texting me to say, 'Can I stand with you? Can I hold a sign?' You can be here. If you feel uncomfortable, stand on the sidewalk or leave. Rallies and protests are not only negative. They're also celebrations. It can be a really positive experience to be with other people who support specific ideas and causes."
Publish a letter to the editor
If you're ready to bring your political opinions to a wider audience than your Facebook page, a letter to the editor or opinion piece can be a great start. Andy Lien '99, managing editor of Lavender magazine, offers a few tips on catching an editor's attention.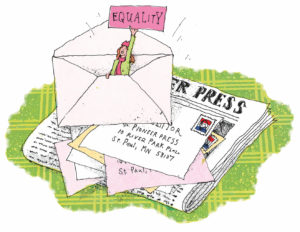 Follow the guidelines. "Look to the guidelines for submitting letters and opinion pieces, which are usually available near the masthead or on the website. If your letter or piece doesn't fall within those guidelines, fix it. Find other letters or opinion pieces that have been chosen for the publication and read them for tone and style. Keep it simple; if your point is made in fewer words, stick to it."
Know your audience. "A query that looks like it was sent to every publication on the Internet won't work," Lien says. "If it's something someone else might publish, why should I? If you don't care to tailor it to my audience, why would I publish it for them?"
Do your homework. "If you're responding to something that was in the publication, read the piece thoroughly to be sure you understand it. Sometimes I get letters that make it clear that the reader didn't understand what was written; to publish their letter might result in egg on their face they don't deserve. Do your due diligence and try to make your writing beyond reproach in its form, so that it isn't a liability for either one of us. "
Go high, not low. "One of the biggest mistakes I see is to be demeaning or belittling; there's no place to go when it starts with insults."