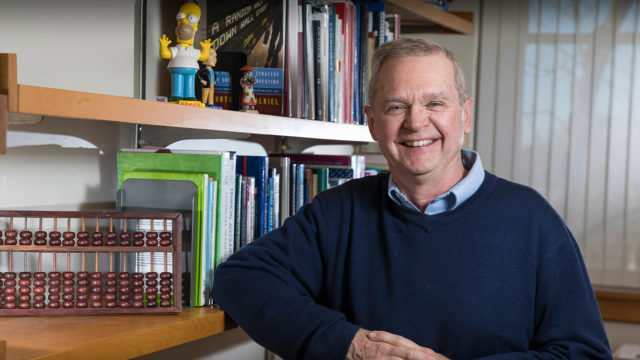 "With a pencil and paper, you can change the world." —Professor Jeff Evans
Faculty Profile: Professor Jeff Evans
Economics Department
What do you teach?
Accounting. Double-entry bookkeeping was developed almost 600 years ago by a friend of Leonardo da Vinci named Luca Pacioli.  It is an amazing system; we have been using it with very little modification ever since.
Prior to teaching, you were an accountant with one of the Big Four accounting firms. Why move to academia?
Teaching is the family business. My grandfather, mother, and two sisters were all teachers.
What do you like best about teaching at Macalester?
I get a chance to work with great students every day and every day is different. No matter how many times I have discussed a case study or an ethics challenge, students always come up with new ways to approach and solve them.
How does your course in financial accounting work?
For the first month, we are learning the fundamentals of how to put together financial statements. Then we answer questions such as, would you buy this company's stock?  Would you loan them money? Is management doing a good job?
We talk about the stock market and learn how famous investors such as Warren Buffet would pick stocks.
Why do you get into ethics in an accounting course?
Most people and corporations want to do the right thing, but sometimes it's hard to tell what the right thing is. If you lay people off, it may improve the bottom line for investors, but people lose their jobs. Balancing economic performance and social performance is the challenge of the 21st century.
You need to be able to look at the numbers to make an informed choice, whether you're talking about reforming Social Security or stopping copper-nickel mining near the Boundary Waters wilderness in Northern Minnesota.
What do you teach besides financial and managerial accounting?
Organizational Leadership. This class is for majors who wants to develop their decision-making and leadership styles. We read Aristotle, Winston Churchill, Steve Jobs, and the latest scholarly research. I bring in a number of guest speakers and make extensive use of case studies. For example, we learn from Ernest Shackleton's ill-fated trip to the South Pole.
When companies are hiring, they used to study your resumé. Now they want to see what kind of a leader you are.
You've worked on some unusual investment projects including almonds in Australia, microfinance in Africa, and a business plan for a rock band. Why?
In class, we look at "alternative investments" like these, analyzing them and thinking about what could go wrong. For example, the radiata pine tree grows very fast, so it's grown commercially in New Zealand for lumber. But when we investigated and looked for what could go wrong, we found that the cost of shipping containers had tripled, making lumber from New Zealand prohibitively expensive.
What do you do for fun?
We have a cabin up north, and I like to fish, canoe, and birdwatch—anything outdoors. I've led nature hikes for the Audubon Society; I'm on the board of an arts organization; and I'm active in environmental issues. Accounting allows me to contribute to causes I care about and to meet great people.
With a pencil and paper, you can change the world.