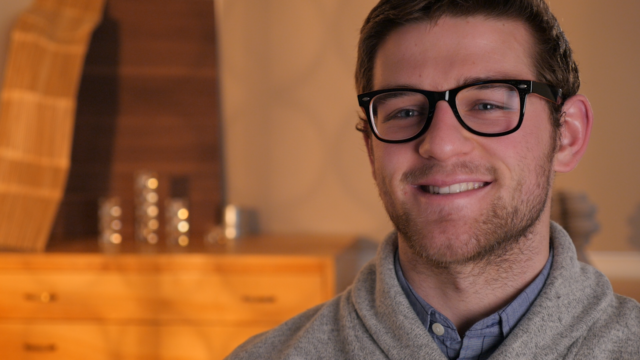 "Here in the lab, we're looking at the role of genetics in certain types of tumors and what contributes to the formation of tumors."
—Ian Lock '17
By the time he arrived at Macalester, Ian Lock '17 had already stared down cancer, emerging as a survivor of osteosarcoma. Today, as a researcher, fundraiser, and advocate, he's hitting childhood cancers with everything he's got.
Lock was a sophomore playing on his high school's football team in Fond Du Lac, Wis., when, in a fluke accident, two members of the other team collided with him. It hurt—a lot—so as a precaution, Lock saw an orthopedic surgeon, who discovered a dark spot on his x-ray. Over the next nine months, Lock endured 16 chemotherapy treatments and several major surgeries. Amazingly, by hitting the books at home and taking a couple of summer school classes, he graduated with his class and arrived at Macalester in 2013.
Over the next four years, Lock pursued a biology major, enjoyed the challenge and camaraderie of competing on the swim team, and participated in the Lives of Commitment program. "In Lives of Commitment, we had a compassionate community that was very intentional about exploring the academic and other opportunities that would allow us to live and work in line with our values," Lock says.
Stepping up, speaking out 
While still in high school, Lock joined the Cancer Action Network, the American Cancer Society's advocacy branch. This advocacy took Lock to Washington, D.C., where he served on a panel with researchers and biotech companies as part of a congressional briefing on the impact of the Human Genome Project.
At Macalester, Lock ramped up his fundraising efforts as co-chair of Macalester's Colleges Against Cancer. The organization sponsored the Relay for Life on campus to raise money for cancer research and advocacy. From there he became involved at the regional, then the national level, where he is serving his second year on an advisory board.
In his continuing work with the Cancer Action Network, Lock has spoken at colleges around the region and this work has taken him to conferences in Atlanta and Dallas, and once or twice a year back to Washington, D.C.
"I was in Washington in late June when the Senate Republicans' healthcare bill was released," says Lock, who says the timing was coincidental. "I was there for a press conference with United States Senators Mazie Hirono, Patty Murray, and Chris Van Hollen, who were highlighting the threat posed by the loss of protections for people with pre-existing conditions."
As reported, Lock, speaking as a survivor said, "Cancer has affected my life in so many ways. I cannot stand by as the cancer that devastated my family when I was 16 continues to haunt me, not only in the possibility of it coming back, but also by being placed in a group with pre-existing conditions."
Lock is grateful for not just the permission, but the encouragement of his professors. "They not only allowed me to miss class occasionally, they encouraged me to go to these speaking engagements and offered to help me catch up when I got back."
Conducting cancer research 
Lock never allowed the demands of advocacy to get in the way of his academic goals. He spent two inspiring summers working with Dr. Logan Spector at Masonic Cancer Center at the University of Minnesota. Spector's research focuses on the causes of childhood cancers including osteosarcoma, leukemia, and hepatoblastoma. His first summer of research was supported by a grant from the Howard Hughes Medical Institute through Macalester. By the second summer, he was employed by the lab itself.
One of Lock's mentors at Macalester is biology professor Randy Daughters, a cell and molecular biologist, from whom he took several courses. When Lock told him that he wanted to expand his research experience, Daughters coached him on how to contact researchers and to present himself to optimize his chances of being considered for a lab position.
It worked. After Commencement, Lock moved to Salt Lake City to begin a year's research in the lab of Dr. Kevin B. Jones at the Huntsman Cancer Institute at the University of Utah. Dr. Jones is affiliated with multiple hospitals and is the principle investigator in the research lab that deals in sarcomas, tumors that appear in the bones and connective tissues such as muscles and tendons.
"Because Dr. Jones is an orthopedic surgeon who also sees patients, he knows the personal aspect, too," says Lock. "Here in the lab, we're looking at the role of genetics in certain types of tumors and what contributes to the formation of tumors."
Lock isn't precisely sure where his career will take him after this year in Utah, but he says, "I really enjoy research and the people who do cancer research usually have passion and a personal connection. Research seems like a good fit for me."