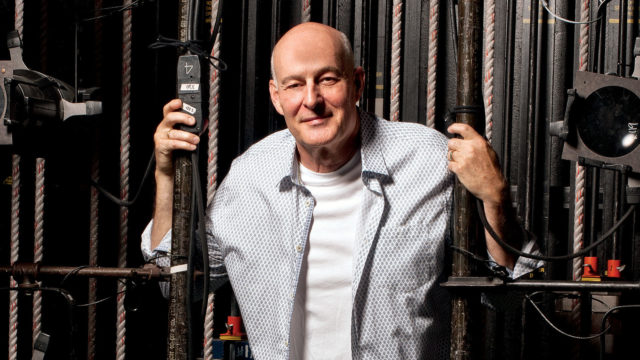 From Guys and Dolls at Mac to King Lear at the Guthrie, Stephan Yoakam '75 has always valued a strong artistic community.
Stephen Yoakam '75 is that rarest of creatures—a creative professional who has made a steady living as an actor since graduation. Although he has performed at many Minneapolis-based theaters, including the Mixed Blood and Jungle theaters, he is probably best known for his 75 (and counting) appearances at the Guthrie, one of the country's most respected regional theaters.
From his early days at Macalester to his star turns at the Guthrie, Yoakam has benefited from the support of fellow professionals who contribute to Minnesota's vibrant arts scene. The opportunity to be part of this community has allowed Yoakam to, as he puts it: "buy a house, have a family, pay taxes, and be a citizen"—all while performing in everything from A Midsummer Night's Dream to Who's Afraid of Virginia Woolf? His family includes his wife, Shawn, a native New Yorker he met at the Guthrie, and daughter Senait, a dance and neuroscience major at Connecticut College.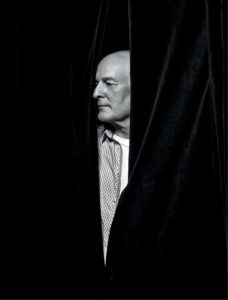 He was not, it turns out, one of those star-struck kids who always imagined an acting career, although he does remember that his first performance, in a Sunday school skit, earned praise for what he describes as "a very dramatic death." Growing up in Bloomington, Ind., Yoakum was just as interested in competitive swimming and literature as he was in performing. He chose Macalester in part because, having had a father on the faculty at Indiana University, he knew he wanted to attend a smaller school. Then a high school friend said he was considering Macalester and, noting that his friend was, in Yoakam's words, "a lot smarter than me," he applied, was accepted, and headed to St. Paul.
What he found there engaged and excited him. "This was during the Vietnam War, and the campus was very politically active," Yoakam remembers. He was equally enthusiastic about academics: "The professors and classes were challenging and fulfilling, and I especially loved the cross-departmental classes and co-teaching."
While Yoakam found a "strong anchor" in the English department, he also loved the theater department, headed then by Douglas Hatfield. During his years at Macalester, Yoakam experienced what would be the first of many collaborative artistic communities, and he counts several of his fellow students as friends and colleagues today.
"Many of the people from that theater department are still working in the arts," he says. Yoakam recalls playing the lead in Romeo and Juliet opposite well-known memoirist Mary Karr '76. "She's still a friend to this day," he says. Other classmates included Mixed Blood Theatre artistic director Jack Reuler '75, actor James A. Williams '77, Pillsbury House Theatre co-artistic director Faye Price '77, and [University of Minnesota] Northrop Auditorium director Christine Tschida '75.
Often encouraged by professors to experience the Twin Cities's theatrical riches, Yoakam remembers one night in 1974 when he piled fellow students into his VW Beetle and drove to the Guthrie for a performance of King Lear with Len Cariou in the title role. "I think the tickets cost about $8," he laughs. "The performance made such an impression on me—he was such a hero. I found myself thinking that maybe, someday, I would be able to do something like that."
Forty-three years later, Yoakam won the opportunity to play that very role, the one that first made him speculate about life as an actor. In a unique case of double casting, he and Nathaniel Fuller alternated playing the title role, while the rest of the cast remained constant. "We shared the role completely, in such a unique and new way," he says. "Nat and I would flip a coin at the beginning of a week of rehearsal to see who would lead off, and then we'd switch after a couple of hours.
"What made it work so well was that director Joe Haj was interested in getting all the different perspectives of these two men playing Lear. And it helped that Nat and I have known each other for so long and had what I'd call a 'maturity of approach.' We knew we needed to be completely collaborative, yet stick to our individual instincts, sounds, and rhythms."
As different as their two performances were, both actors kept to the script's intention and pacing: The show never varied more than two minutes in run time, regardless of who was playing Lear, Yoakam says.
While clearly the role of a lifetime, the production did take a physical and mental toll on its lead actors. "The week after we closed, I got a massage and ended up not being able to walk for three days. It unlocked and released all that tension I'd been holding."
Yoakam returned to Macalester in early 2016 to direct The Clean House by Sarah Ruhl. "I had a blast working with the young people in the theater department," he says. "It was like coming back to where I started, reconnecting with a community that was a huge part of my growth and development."
Although it's hard to beat the advice King Lear offers in his eponymous play ("Have more than thou showest/Speak less than thou knowest"), Yoakam nevertheless ventures to offer some counsel to young people intent on careers in the arts. His perspective might be especially valuable given the decades that elapsed between his seeing that galvanizing performance of Lear and playing it: "In any of the arts, especially the performing arts, it's important to remember that your career is a long journey, so try to cultivate patience whenever possible."
---
Julie Kendrick is a Minneapolis writer.