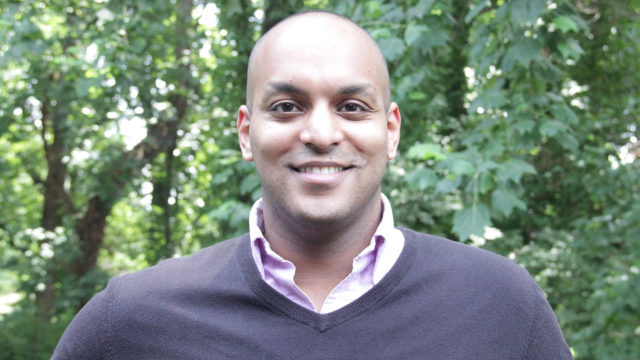 "In my career I've been confident in jumping [between employment] sectors because of the sense of self I got at Mac."
—Tinbete Ermyas '08
American studies major Tinbete Ermyas '08 grew up in an Ethiopian American household near Washington, D.C.  Well before college, he was aware that criminal justice was not always meted out fairly, but it was a course at Macalester—the Schools-to-Prisons Pipeline seminar—that expanded his perspective and convinced him that he could make a difference.
After graduation, Ermyas was a policy fellow with the Greenlining Institute in Berkeley, Calif., working on higher education affordability within communities of color. Later he worked as a litigation assistant with the Prison Law Office, visiting prisons across California to determine if incarcerated people were receiving the medical and psychiatric care to which they were entitled. For a time he also taught English at San Quentin State Prison. "That was one of my best experiences since Macalester," says Ermyas. "It taught me [the inmates'] complicated reality."
By 2010 it was time for a change. Ermyas, who blogged and had been a columnist for The Mac Weekly, wanted to return to media. "I went back to D.C., where I could live with my parents, so I could afford to take an unpaid internship at The Kojo Nnamdi Show" at WAMU, a public radio station serving the D.C. area.
While at WAMU, he made good use of the infamous "elevator speech"—quite literally, as it happens, because in an elevator one day he introduced himself to a staffer from NPR, who invited him to meet the network's producers. By January 2011 he was working for Weekend Edition.
"It was an exciting time," says Ermyas. Just as he began at NPR, the Arab Spring began and former U.S. Representative Gabby Giffords was shot. Each day he had to figure out what would interest the audience. "Listeners already knew the facts from the daily news," he says. "For a weekly show, we had to figure out who to talk with for some perspective, how much background to give, and what we could say in three minutes." Ermyas produced a variety of NPR shows over three years.
Because he frequently covered foreign affairs for NPR, he knew some journalists on the ground in Africa. After leaving radio, Ermyas flew to Ethiopia, where he connected with the owner of the English-language Ethiopian Business Review. Soon he had landed a full-time job, assigning stories, managing reporters, and working with contacts.
With its business community developing rapidly, Ethiopia is an exhilarating place to be. In one of his favorite interviews, Ermyas talked with the CEO of Turkish Airlines, which hopes to develop a strong presence in Africa. Manufacturing is another major growth sector, allowing Ermyas to cover topics ranging from textile manufacturing to cell phone design.
Moving from U.S. radio to an Ethiopian print publication meant learning to tell a story  through graphics rather than sound. Another learning curve for Ermyas has been his study of Amharic, a language that helps him commuicate with people whose first language isn't English. Also, he notes, "Freedom of the press is understood differently here. People police themselves differently than in the U.S."
While he has enjoyed working in the country of his ancestry, Ermyas expects his next career move is likely to bring him back to the United States.
Remembering his college days, Ermyas says, "Macalester did a lot for me; it gave me a place to grow. I came as an 18-year-old kid and left with a better understanding of myself as a human being. In my career I've been confident in jumping sectors because of the sense of self I got at Mac. And I stay connected with folks there. When confronting the world, most hurdles can be overcome through interpersonal relationships."
His other bit of advice: "Moving into something new may require you to humble yourself." He gives the example of admitting at NPR that he didn't know how to cut audio. "I said, 'But I'm eager and ready to learn. Can you help me?'
"That takes you further than you'd think."