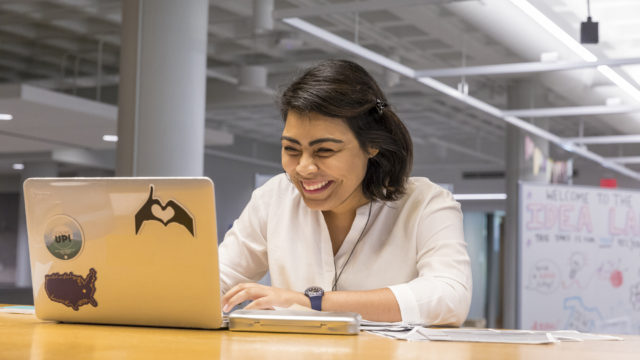 "Everyone has treated me seriously as a historian and researcher."
—Jennifer Arnold '19, Mellon Mays Fellow
By Alexandra McLaughlin '16
While doing archival research at the University of Miami's Cuban Heritage Collection in July, Jennifer Arnold '19 (Waukegan, Ill.) stumbled across a pamphlet summarizing a speech by Fidel Castro, one given two years before he rose to power.
The discovery added to her search for insights into Cuban politics and culture. How did Castro garner so much support? How did his stances change over the years? Can you visually portray this using statistical models? Arnold wanted to try.
Last February's tutorial with Macalester history professor Ernesto Capello helped inspire the project. Intrigued by his Latin American history class, but unable to fit it into her course load, Arnold asked if they could meet biweekly to discuss topics in the course. "At Mac, I find it very easy to introduce myself to others," said Arnold. "More often than not, I email professors in areas I am interested in, asking to meet, and they end up introducing me to other individuals as well."
Capello mentioned a word-counting software program that could analyze speeches. "It stuck with me," Arnold said. Another history professor, Rebecca Wingo, helped Arnold attend a digital humanities conference early this past summer. During a workshop on topic modeling, Arnold had a "Eureka moment" on how it could impact her Mellon Mays project.   
The Mellon Mays program aims to diversify the professoriate in areas where minorities have been historically underrepresented. Each year, the program selects five fellows toward the end of their sophomore year and they begin their two-year journey preparing for graduate school. As a Mellon Mays fellow, Arnold designs her own project and receives funding for research and travel.
Arnold, a history and computer science major, now analyzes Fidel Castro's speeches using statistical models. A type of statistical analysis called topic visualization modeling processes long sets of documents and identifies dozens of "themes" using data mining.
As a first-generation college student, Arnold initially had doubts about graduate school. But Macalester helped her envision it. She hopes to enter a PhD program specializing in history.
"My work and the people I've met have encouraged me to pursue this," she said. "Everyone has treated me seriously as historian and researcher. I'm very eager to continue exploring my interests through this work and sharing it with others."