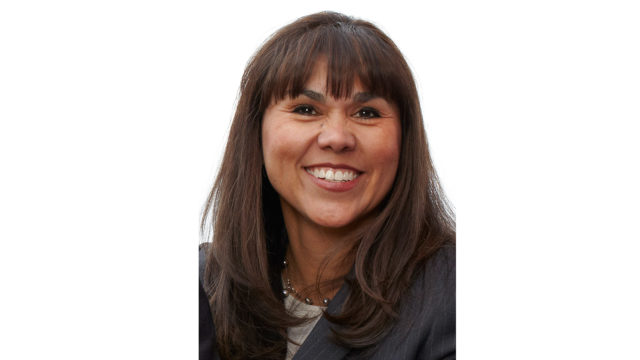 St. Paul, Minn. – This year's First Thursday – Opening Convocation speaker is Gloria Perez '88, president and CEO of the Jeremiah Program, a Twin Cities-based national organization that helps low-income single mothers achieve economic self-sufficiency. Her talk is titled, "You are powerful beyond measure." Perez will also be awarded an honorary degree.
First Thursday – Opening Convocation is 11:30 a.m., Thursday, September 7, 2017, in the Leonard Center's Alumni Gymnasium. President Brian Rosenberg, Provost Karine Moe and Macalester College Student Government President Suveer Daswani '18 will also speak. All students, faculty and staff are invited to gather as a community on the first Thursday of the Fall Semester to celebrate the beginning of the academic year.
When she was a Macalester student, Gloria Perez majored in speech communication and began volunteering as a children's advocate at Casa de Esperanza, which works to end domestic violence in Latino families. In 1995—less than a decade after she graduated—she was named the organization's executive director.
Today, Perez is the president and CEO of Jeremiah Program, a leading national nonprofit whose proven, holistic approach transforms families from poverty to prosperity, two generations at a time. The program prepares determined single mothers to excel in the workforce, readies their children to succeed in school, and reduces generational dependence on public assistance. Headquartered in Minneapolis, Jeremiah Program has campuses in Minneapolis, St. Paul, and Austin, Texas, and is expanding to other locations both regionally and around the country.
Since joining Jeremiah in 1998, Perez has become one of the country's leading experts in two-generation strategies in reducing poverty. As an Ascend Fellow at the Aspen Institute, she is working with leaders from across the country to drive innovative ideas and proven strategies to help families achieve educational success and economic security. She was one of two fellows selected by Ascend to attend the Aspen Institute's Action Leaders Forum, a gathering of 350 world leaders who have been successful in moving thought to action.
Perez has brought her leadership and perspective to numerous Twin Cities boards. She has received many accolades and honors for her work, including Macalester's Catharine Lealtad Service to Society Award in 2004.