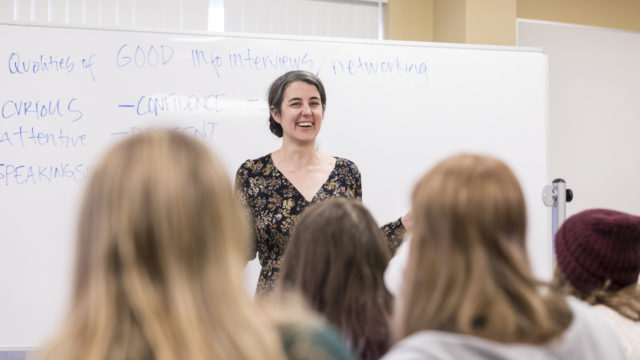 "This is real-world professional development," Dianna Shandy says. "This matters in work or graduate school. How do we train students? What happens if we thread that through a full course?"
It was near the end of the semester, but instead of wrapping up their coursework, a group of Language of Diplomacy students prepared to move their classroom thousands of miles away. In a two-credit extension to the course, the students embarked on a two-week program to explore firsthand the themes they studied back in St. Paul, their itinerary filled with visits to organizations such as the United Nations High Commissioner for Refugees and the International Criminal Court.
The program required preparation beyond a typical academic workload for the students, who ranged from first-years to seniors, intermediate French speakers to French majors who just returned from semesters abroad. The students conducted a series of in-depth interviews with people working in international public service. They studied Europe's historical and cultural dynamics connected to diplomacy. They hosted guest speakers with a rich breadth of experience in diplomacy. Grappling with French, the students choose to work extensively in the language, even when French was optional in discussions and assignments.
And they prepared for the networking scenarios they would encounter daily in Europe. French professor Juliette Rogers and anthropology professor Dianna Shandy, who received a faculty grant to develop the course together, have intentionally woven career development into the syllabus. Their hope is for the students to draw on those lessons in Europe—viewing the visits as possible career paths—now and in the years ahead. "This is real-world professional development," Shandy says. "This matters in work or graduate school. How do we train students? What happens if we thread that through a full course?"
Before they departed, the class welcomed the Career Development Center's Kate Larson for a networking workshop. With her guidance, the students practiced quick introductions, then longer versions, in both English and French. They covered how to exit a conversation gracefully, how to join a conversation, and how to ask for an informational interview. They practiced holding a cup in their hands to get used to shaking hands while juggling a drink; they talked about when to exchange kisses on the cheek. Shandy encouraged them to relax and enjoy each exchange. "It's not speed-dating—you can have a more singular, substantial conversation," she says. "It's a balance, and you'll get their cues, too."
Throughout class, whether in networking or French, the goal was the same, says Rogers: "We wanted everyone to stretch themselves."
And the students carried that spirit into their program abroad, too. The following entries are excerpts from the class's blog:
May 18
Makayla Barker and Claire Gillen
"For our first full day in The Hague, we had the amazing opportunity to visit the International Criminal Court (ICC). This independent institution is the first permanent international tribunal, which has the jurisdiction to try individuals for crimes including crimes against humanity, war crimes, genocide, and crimes of aggression. Although the Court has been located in Holland, its two working languages are English and French. This was particularly interesting for us as we were lucky enough to use both French and English during our visit.
At the ICC, we got a general overview of the court and saw the first trial room. We met Mr. Xavier-Jean Keita, the head of the office for public defense and an accomplished lawyer. Mr. Keita attended school in Paris, so he spoke with us in both French and English; it was fascinating not only to learn through Mr. Keita's presentation, but also to observe how the two working languages of French and English can be used within the same space and even the same breath. The major takeaway from Mr. Keita's presentation was the importance of justice achieved through a balanced usage of power. For Mr. Keita in particular, this means aiding the defense so as to check the power of the prosecutor. His job includes witness and victim protection to check evidence found by the prosecutor as well as advising the defense lawyers in order to inform them of the ICC's particular rules, regulations, and culture. As Macalester students, we are constantly exposed to the concept of global citizenship, and it was amazing to see a real manifestation of that today on a large and professional scale through the international dynamics of the ICC and The Hague."
May 19
Jessica Ilc and Emily Noyes
"We were fortunate enough to visit the International Criminal Tribunal for the Former Yugoslavia (ICTY), considering it is closing at the end of 2017. The ICTY was established by the United Nations to try those responsible for war crimes in Yugoslavia before the collapse.
Our visit started with watching a documentary that revealed the violence against Serbs who identified as Muslims. The documentary showed horrifying evidence that was documented by British journalists and later investigators. This provided background before seeing a presentation regarding the ICTY and its role. We learned that the ICTY gives voice to the victims and stops people in positions of power [from thinking] they can commit crimes against human rights without consequence. After having an open discussion with our presenter, we were able to see one of the court rooms where most of the action took place."
May 23
Christina Moore and Claire Gillen
"We started off Tuesday morning with a visit to the United Nations High Commission for Refugees (UNHCR), a United Nations special program that is the primary agency in the world for refugee work. UNHCR helps refugees, returnees, stateless persons, internally displaced persons and asylum-seekers. In all, UNHCR works in over 128 countries, including international hubs and remote locations. Originally created in 1950 to help with the refugees in Europe from WWII, UNHCR was intended to last three years. Sixty-six years later, it is unfortunately still here and still desperately needed, as there currently 65.3 million displaced people in the world, a number we have never seen before.
When we arrived, we were lucky to participate in an informative presentation and discussion with our gracious host, Senior Legal Advisor and Head of Offices Luc Brandt. Mr. Brandt explained many aspects of the UNHCR to us, including the work they are focusing on now and in several rising programs. His next project is based in Morocco and involves getting adolescent refugees into local schools so they do not lose time while staying in the refugee camps.
In dealing with such a hot topic, Mr. Brandt found it essential that we fully comprehend the definition of a refugee, as well as their rights throughout the entire refugee, asylum-seeking process. He emphasized what it is like to be a refugee, including through stories about refugees in Tanzania and Burundi. He highlighted the challenges refugees face at every turn, from getting water, to cooking food, to finding shelter. We left our visit to UNHCR grateful to Mr. Brandt for speaking with us and answering our questions, and freshly aware of how we view the world and refugees. Mr. Brandt's advice to us and to everyone: open your mind and attitudes toward refugees."
May 26
Julia Hirsch and Makayla Barker
"On Friday we visited SOS Mediterrannée, a non-governmental organization that uses a large ship to rescue refugees whose lives are endangered while crossing the Mediterranean. The organization also works to share the testimonies of survivors and educate Europe on the plight of refugees. As such, a large part of the work done in the Marseille office for SOS Mediterannée is using mass media to communicate with their rescue boat, MS Aquarius, and advocate for their cause.
Today we met with two leaders who execute this work in Marseille. We learned that since 2015, their organization has saved 150,000 refugees fleeing situations such as environmental catastrophes, terrorism, torture, abuse, and war. We focused particularly on current migration patterns that elevate the need for rescue organizations like SOS Méditerranée.  For example, the speakers explained that the path between Libya and Sicily is most common for their ship, the MS Aquarius, because the Turkey-to-Greece path is heavily regulated and often closed off, so refugees cannot migrate there. They also spoke to us about challenges such as limited funding for not-for-profit organizations, bureaucratic relationships with governments, and the limitations provided by armed forces of stricter countries such as Libya. These armed forces not only limit the movements of SOS Mediterranee, but increase the psychological stress of refugees, who have already endured excessive brutality.
Today's presentation was especially intriguing because this is a small and very new organization, which focuses very specifically on the growing issue of refugee migration. This structure particularly contrasts with our site visits in Geneva, which included large, international, and senior organizations. We hope that in the future, SOS Mediterranée will grow and help more people obtain better lives."
May 26
Emma Carray
"On Friday, we visited the Consulate General of the United States in Marseille. The American Consulate General in Marseille is one of the oldest missions abroad of the United States. The consulate's workload peaked shortly before the Second World War due to a massive influx of refugees from all over Europe fleeing the persecution of Nazis. As many as tens of thousands (exact figures are not known) of them came to the Consulate General to seek asylum in the United States. The American Consulate in Marseilles has five main functions: assisting American citizens in their efforts through consular services; promoting American companies and increasing trade between the United States and the South of France and Monaco; expressing and promoting the positions of the US government and US values; assisting the US Navy's sixth fleet by organizing ship visits to the Mediterranean ports of France and Monaco; and maintaining diplomatic relations with the Principality of Monaco.
Our first experience of the US Consulate was to pass through the intimidating security measures in place. There were several armed guards who temporarily confiscated many of our belongings. Once inside the building, we were greeted by a lavish, ornate interior and old fashioned travel posters promoting destinations such as the Grand Canyon. We met with diplomat Seth Snyder, who has served four tours for the foreign service in places ranging from Morocco to Hong Kong. He was surprisingly candid with us about the realities of his job and answered our questions with frankness rather than diplomatic evasiveness. One of the most surprising insights our host shared with us was that for many people, a job in the foreign service is a second or third career, rather than something we need to be working toward immediately."
May 28
Allison Brady and Sophia Hays
"The Arab World Institute was founded in 1980 to promote understanding and cooperation between France and the Arab world. Specifically, the institute works to share information both with the public and with European governments in the hopes of sharing the important cultural, scientific, spiritual, and artistic knowledge that the Arab world has.
At the Arab World Institute today, our group learned about Arab culture and the similarities and differences between the Islamic world and the Arab world. When speaking about the Arab world, because it is majority Muslim although the Islamic world and Arab world are not the same, our tour guide taught us that the Q'aran is not only an important religious text, but an important tool for learning Arabic, as it is one of the first written texts of Arabic. We compared other religious texts, such as the Torah, as well. Finally, we studied many of the Arab artworks in the Institute, such as a piece depicting the prophet Muhammad."
May 29
Jessica Ilc and Christina Moore
"Médecins sans Frontières (MSF)—or Doctors Without Borders—is a non-governmental organization, founded in 1971, dedicated to providing humanitarian medical assistance to people in crisis situations. Today we got to visit MSF and talk with one of the founders, Rony Brauman. Mr. Brauman shared MSF's history and what makes it unique among humanitarian organizations. He also detailed the significant changes that occurred in each decade, highlighting how the mission and work of MSF and humanitarianism as a whole has changed and crystallized to what it is today. The age of development, decolonialism, the end of communism, and the rise of terrorism have all made an impact on the humanitarian world. A theme that Mr. Brauman often referred back to was the tension between humanitarianism and politics. MSF is unique for deciding early on to provide medical assistance to everyone, regardless of politics, race, religion, etc. We were all very grateful for the time Mr. Brauman spent talking to us and answering our questions thoughtfully."