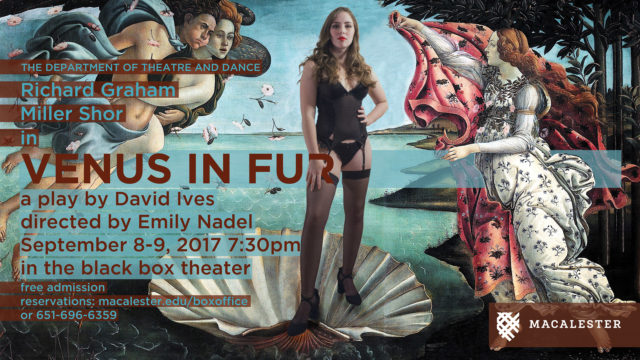 St. Paul, Minn. – The Macalester Theatre and Dance Department presents David Ives' Venus in Fur, a production by Carter D'Angelo '17, Richard Graham '19, Emily Nadel '18, and Miller Shor '19. Performances are Friday, September 8 and Saturday, September 9 at 7:30 pm in the Black Box Theatre, in the basement of the Theatre Building, 130 Macalester Street, St. Paul, Minn. For ticket information call 651-696-6359 or go online to Macalester.edu/boxoffice.
Venus in Fur, by playwright David Ives, was originally produced in January 2010 at the Classic Stage Company in New York, N.Y. It presents the audition process for a play-within-the-play, a process that reveals the sexualized power dynamics between a male playwright and a female actress. The audience witnesses a writer/director wrestle with his challenging work, and how the rhetoric of 'angry women' rise from gender bias.
Ives' presents layered sexually charged interactions that challenge an audience to consider their overall comfort with female subjugation and sexuality. This production is in reaction to a political and social climate that vilifies all women, and it is work that taps into the stories and anger that many are feeling, giving all of us the ability to depict and delve into more honest portrayals of real female emotions.