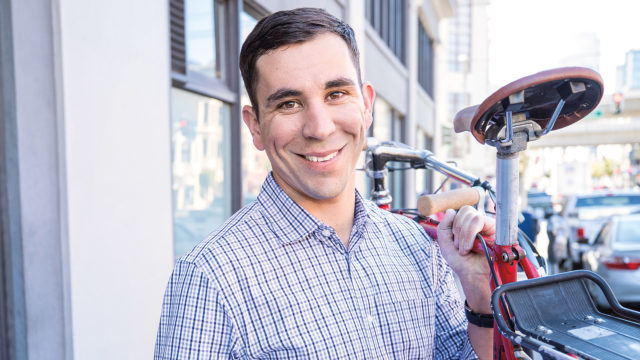 As Wired magazine's transportation editor, Alex Davies '10 moves seamlessly from analyzing New York City's subway problems to test-driving Teslas.
Alex Davies '10 may ride his bike to work but he spends his days thinking about driverless cars, flying cars, and hyperloop.
As the transportation editor for Wired magazine, he is on the cutting edge of what the future holds for moving us all around. "We're discussing stuff no one talked about even three years ago," he says. "The acceleration is dizzying."
Three years ago, for instance, Wired had no separate transportation section; it was a subsection under Gear. Just 18 months ago it was launched as a stand-alone section, says Davies, and now he and two writers are busy keeping up with the high-tech stuff as well as the nuts and bolts of transit policy, mass transit, airplanes, and yes, even bikes.
We met with Davies in Wired's South of Market San Francisco offices, recently remodeled to include a large bicycle storage space and a shower.
On moving from a history degree to a national magazine
The last summer of college I interned with the Discovery Channel. They asked me to write for a blog called TreeHugger, which had a tech, design, and environmental focus. They liked what I did, so my boss asked me to keep writing blog posts during my senior year. It paid just $15 a post, but it was a foot in the door. After college I kept doing it as a freelance writer, but was still thinking about earning a PhD in history. Finally it occurred to me that journalism is seeking out information and writing, just as history is, but doing so in a way that's more digestible. It's the first draft of history. More people will read it, and you can do it in a day instead of a decade. Six months later I was hired at Business Insider.
On moving from Business Insider to Wired
I write a lot less at Wired than I did at Business Insider, where I was just cranking it out. What I really appreciate at Wired is that we are much more analysis based. We don't play the speed game. We look for people who can figure out what's worth saying, what's different. It's not just: here's a new car with a new features. We use the news as a peg to talk about bigger things, such as how technology is changing all our lives.
On keeping car interiors familiar
Car interiors are changing, yet these are really important spaces in American life and psychologically all these new technologies are threatening to change that. It's fine to have a car that's a gleaming silver ingot, but keeping that sense of familiarity with some wood and leather is important to people too. At Wired we're always interested not just in the technology but in how technology affects culture and people. We don't just write about driverless cars as an end to accidents, for instance, we also explore how you feel inside your car. What will happen to people's sense of control when their steering wheel is gone? Self-driving cars, like so much of technology, is about much more than the technology itself.
On his own transportation choices
I bike to work and don't own a car, but I get to test drive new cars all the time. I've driven new Teslas, and I just spent two weeks driving a new electric Chevrolet Bolt, which gets 200 miles per charge. The funny thing is I was never a hard-core car person growing up (in Westchester County, New York). A couple years ago I got to test drive a new Ferrari, so in an attempt to persuade my younger brother to move to California, I drove him up the coast highway in the Ferrari. It was a hard sell on the state, but it didn't work.
On fixing the Bay Area's worsening traffic
People don't want to do the hard work of fixing what we have—such as adding dedicated lanes for bus rapid transit or improving Cal Train—so they get to talking about hyperloop, flying cars, etc. A lot of it it is just nuts. The fixes are hard: they're about local politics and infrastructure. But many people are tempted to avoid that with pie-in-the-sky thinking. I believe you need both.
On covering transportation at Wired
We do a lot of policy stuff around city transit, and a lot around aviation and cycling, such as the need for a better cycling infrastructure. Since taking over the section I've tried to include more about the everyday reality mof transportation and less of the gee whiz stuff. I'm always looking for writers from outside the normal "car guy" space, too, people from other parts of the world who can bring in a new perspective. Transportation affects everyone. We all move—walk, drive, bike, fly. How would bike sharing work in an African city, for instance? Or how would self-driving cars work in the traffic of India or China?
On what's most surprising about working at Wired
Everyone who works here thinks they're the dumbest person in the room, which is actually how I often felt at Mac. I love the relentless intelligence of the people I work with, learning about so many things I've never heard of before, and the sheer reveling in the nerdery of it all. The other day someone was talking about how dead-end streets can pertain to other things and I had just read the Wikipedia section on cul-de-sacs, so we all talked about that for awhile. It's a bunch of people who like ideas.
On what he loves most about his job
I love that my job is to learn new things and share that information. I hope to stay here awhile. They're serious about fostering talent and I've gained a lot from the more senior people. I've been blown away by how fast I've learned on the job. On my first day I wrote something and an editor just massacred it with his pencil. In two weeks I was a palpably better writer.
This article appeared in the Summer 2017 issue of Macalester Today.