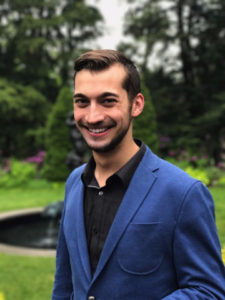 St. Paul, Minn. – Stephanie Martinez-Fernandez '17 and Jake Speirs '16
have received Princeton in Asia (PiA) Fellowships for 2017-2018. Martinez-Fernandez will go to Penang, Malaysia, to teach at Universiti Sains, Malaysia, and Speirs will be headed to Macau, China, to teach at the University of Macau.
PiA has been sending recent graduates on Fellowships across Asia since 1898. The organization sponsors over 150 fellowships and internships in 21 countries and is the oldest and largest organization of its kind, unique in its scope, size, century-long expertise and emphasis on service.
Martinez-Fernandez, from Locust Grove, Va., will be in Penang, Malaysia, teaching a variety of English courses at the Universiti Sains, Malaysia's School of Languages, Literacies, & Translation. She is looking forward to her fellowship and chose PiA because its mission intertwines most with her own values.
"My past four years at Macalester were oriented toward how to learn and talk about racial, spatial, and political issues in the global community," she said. "My role with PiA may have "teaching" as my primary duty, but I'm heading to Penang with the goal of learning how international development work impacts the community, what my place is, and how to move forward."
Once her fellowship is complete, Martinez-Fernandez sees graduate school in her future, with plans to continue her research regarding immigrant housing, the free market, and the construction of marginalized neighborhoods.
Speirs is from Cottage Grove, Minn., and will be with the Macau Special Administrative Region of China, or Macau SAR, working at the University of Macau English Language Centre. According to Speirs, Macau has a very multi-cultural and multi-lingual society, and the use of a wide variety of languages on the campus reflects this. And although he'll have several roles there, his primary goal is to use both traditional and creative ways to increase students' mastery of English and their confidence in the language both inside and outside the classroom.
"As a student at Macalester," Speirs said, "my focus was internationalism. Serving in a PiA fellowship is an opportunity for me to put the ideals I fostered during my undergraduate years at Macalester and the mission of PiA to work in cohesion."
Once he finishes his PiA fellowship, he hopes to return to school in pursuit of a master's degree in International Relations or a similar field.
PiA arranges fellowships and internships with Asian host organizations that contribute to important global issues at the local level: education, public health, environmental sustainability, access to information/media, economic development and social justice. Fellowships are the means of fostering person-to-person diplomacy, enhancing mutual understanding, contributing to communities with unmet needs and providing transformative experiences for fellows and host communities.