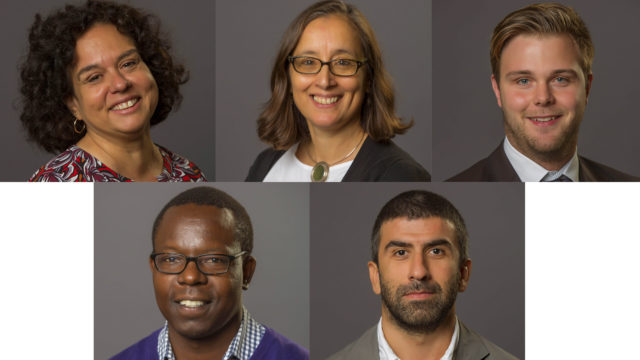 St. Paul, Minn. – Four new tenure-track faculty members and one tenured professor have joined Macalester this fall. Cláudia Tatinge Nascimento will join the Theatre and Dance Department with tenure as professor and chair. The four new tenure-track professors are: Erika Busse-Cárdenas, Sociology, Felix Friedt, Economics, Getiria Onsongo, Mathematics, Statistics and Computer Science and Serdar Yalcin, Art and Art History.
Busse-Cárdenas' research examines how immigration influences family, gender, identity, work, and culture. While a graduate student, she received a Public Sociology Award as a member of the Graduate Student Board of Contexts, the American Sociological Association's quarterly general interest publication. In addition to her dissertation research, she has served as principal investigator or co-principal investigator on numerous research projects, including the following: Performing Peruvian-ess in the US Midwest, an ongoing project that examines how people with heritage or other connections to Peru represent their identity, particularly in folk dance; and a collaborative article with a colleague who studies Chinese dance in relation to ethnic identities published in Sociology of Race and Ethnicity; and Global Controversy and Local Politics: The Case of Abortion Liberalization, a collaborative cross-national project that examined the conditions under which countries changed restrictions on legal abortion. At Macalester, she will teach the following courses: "Sociology of Race and Ethnicity," "Immigrant Voices," "Families and Social Change," and "Sociology of Culture." She previously served as an assistant professor of social and political sciences at Universidad del Pacífico in Lima, Peru. Busse-Cárdenas received her PhD from the University of Minnesota, her MA from the University of Sussex, UK, and her BA from Pontificia Universidad Catolica de Peru.
Friedt specializes in international trade and transportation economics. After growing up in Düsseldorf, Germany, he spent one year as an exchange student at a high school in western Washington state and then attended Whitworth University. During his senior year there, he was a Capital One First Team Academic All-American in basketball. Friedt's just completed PhD thesis in Economics was titled: "International Trade and Transportation." During his graduate studies, he was invited to the WEAI (Western Economic Association International) graduate student workshop, received the Gerlof Homan Graduate Scholarship in International Economics and won the best First-year Econometrics Performance Award. At Macalester, he will be teaching, "Introduction to International Economics" and "Principles of Economics." He received his PhD and his MS from the University of Oregon and his BA from Whitworth University.

Tatinge Nascimento is a theater artist and scholar with a special interest in experimental performance and Brazilian contemporary theater. She grew up in Rio de Janeiro, where she began a professional stage career. Tatinge Nascimento participated in Jerzy Grotowski's final Objective Drama Session at the University of California-Irvine, and has performed and published internationally. She received a Consulate General of Brazil in New York Arts Grant to direct Pornographic Angel, and is a former fellow at Freie Universität-Berlin's "Interweaving Performance Cultures" International Research Center. She is the author of Crossing Cultural Borders Through the Actor's Work: Foreign Bodies of Knowledge (Routledge, 2008), and the guest co-editor of Theater-Yale's Journal of Criticism, Plays, and Reportage's special issue on Brazilian contemporary plays (Duke University Press, 2015). Her most recent book manuscript is The Performances of Brazil's Post-Dictatorship Generation, currently under review. She comes to Macalester from Wesleyan University, where she was a faculty member from 2002-2017. Tatinge Nascimento holds a PhD in Theatre and Drama from the University of Wisconsin-Madison.
Onsongo's research is in bioinformatics with two areas of focus:
the use of genomic data to improve clinical diagnostics, and computational agriculture. He partners with the International Agro-Informatics Alliance at the College of Food Agriculture and Natural Resource Science at the University of Minnesota to develop a system for predictive crop breeding to help prevent food shortages in sub-Saharan African countries. Previously, he was an Informatics Analyst at the University of Minnesota's Supercomputing Institute and worked with a clinical team to develop software that analyzes genetic material to diagnose rare diseases. Prior to that he worked at the Masonic Cancer Center in Minneapolis as a research scientist. Born in Kenya, Onsongo came to the United States in 2000 to attend Macalester after two years at the Mahindra United World College in India. He earned his PhD in Computer Science from the University of Minnesota and his BA from Macalester with majors in Computer Science and Mathematics.

Yalcin is a specialist in the art and archeology of the ancient Near East and Mediterranean with a special focus on the Bronze and Iron Age cultures of Mesopotamia, Syria and Anatolia. His research interests include art and identity, gender and representation, artistic interconnections in the ancient world, and western antiquarianism and the formation of the European and American antiquities collections. Prior to Macalester, Yalcin taught undergraduate and graduate level courses in ancient and western art history, and museum studies at Columbia University and Parsons School of Design in New York. He has been awarded fellowships and awards from the Metropolitan Museum of Art, Pierpont Morgan Library, Netherlands-Flemish Institute in Cairo, and the Research Center for Anatolian Civilizations in Istanbul. His current book project is on the expression of identity in the Mesopotamian and Syrian cylinder seals, ca. 1550 – 1050 B.C. In addition to his teaching and research, Yalcin is also an active member of the Mapping Mesopotamian Monuments and Tarsus-Gözlükule Excavation Projects. He received his PhD from Columbia University and his MA and BA from Boğaziçi University in Istanbul.