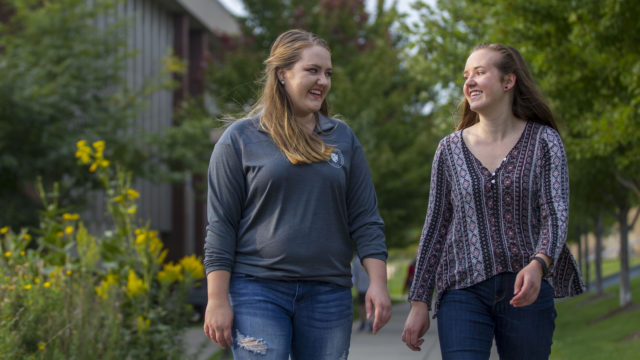 ­­­
Just remember that even though your roommate joined three orgs and a club sport and has an internship and does work-study and volunteers, you do not need to do all of that, plus four classes, at once. — Adrianna Jereb '18
Senior Adrianna Jereb wrote a letter to her first-year sister Jenna about coming to Macalester. We thought she had good advice for all first-year students.
Dear Jenna,
Welcome to Mac! Since I've got a few years here under my belt, I hope I can offer you an introduction that will make your first semester a little easier. Just three years ago, I was in your shoes – settling into a Dupre dorm room, buying books for my First-Year Course, and wondering what I was in for. Looking back now, it's obvious I had no idea what coming here would mean for my life.
First off, Macalester will make it impossible not to care about the world. This school cultivates awareness in its students, an awareness that builds a sense of responsibility. I know you are ready for that. You came here with ambitious plans to join the Peace Corps after college, and while your goals might change, it's your desire to make a mark that brought you here. Macalester will help you strengthen that spirit and will give you the tools to make the kinds of changes you want to see in the world.
But I'm getting ahead of myself. Like any new place, this school might feel unfamiliar at first. There's going to be a lot to navigate – new people, new environments, new ideas. Who's BriRo? Where's 10K? Why is everyone's favorite word "hegemony"? It's okay. You'll learn, along with your classmates. In all of this newness, you are not alone.
Over the course of the semester, you'll figure out how to live your life at Macalester. You'll get to know your roommate, your classmates, your profs, the Café Mac staff, and so many more people. I'll introduce you! You'll get into a rhythm with your classes – that rhythm might feel like improvised jazz most of the time, but you can handle it. Talk to your professors; they're generally kind people and you should advantage of their expertise. And take advantage of your classmates. What do they have to say about the world? The best thing you can do this semester (and every one after that) is to listen to the perspectives surrounding you. Conversations with your peers, who are from across the country and the globe, will expand your worldview as much as anything learned in your classes.
That said, there's going to be a lot going on, so don't overdo it. Macalester students are notorious for getting a weird pleasure out of working too hard. I guarantee you're going to hear them bragging about how many pages they have to read, how many papers they have to write, and how few hours they slept last night. This tendency to take on so much at once is partly due to the fact that Macalester students tend to have so many interests, and partly due to how many opportunities are available here. Just remember that even though your roommate joined three orgs and a club sport and has an internship and does work-study and volunteers, you do not need to do all of that, plus four classes, at once. You have a few years to test out all the possibilities.
Even so, this semester is going to go fast. By the time December rolls around and we leave cold, snowy Minnesota for cold, snowy Wisconsin, Macalester will have become second nature. It might start to feel like your second home as you begin to recognize the stream of faces you pass between the campus center and the library. You will realize how much you have grown when the campus you once got lost in begins to feel like a cocoon.
You'll often hear the phrase "the Mac bubble," in reference to the idea that Macalester is somehow insulated from the "real world." Of course, that isn't true. As an institution, Macalester aims for inclusivity, diversity, and acceptance, and it has a lot of policies and initiatives organized around those values, but these ideals are often difficult to reach. As colleges across the country have to work to make their campuses safe and accessible places, Macalester has to do the same. As students, we have to keep striving to make this school better. I hope that the Macalester your class joins will be a better school because my class was here.
I am so proud and excited that you chose Macalester. There's so much I want to share with you, but I'll try to let you figure this place out on your own. We might be at the same school, but know you are not following in my footsteps. You'll find your own place here, and you'll fit right in.
Love,
Your best (only) sister,
Adrianna