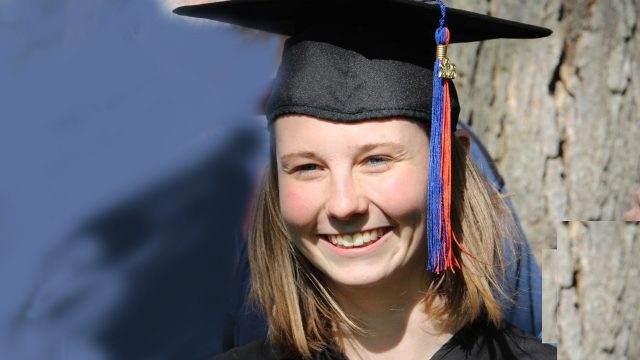 St. Paul, Minn. – Katherine Brown '16, of Denver, Colo., has been awarded the Sylvia Forman Prize from the Association for Feminist Anthropology, a section of the American Anthropological Association, for the best undergraduate paper in feminist anthropology.
Brown's paper, titled "Re-learning Womanhood: A Gendered Analysis of German-Turkish Return Migrants in Istanbul," was praised by the prize committee who unanimously agreed that it "beautifully mixed ethnography and feminist theory to expand the scholarship on migration."
Brown said winning the award "feels like a testament to the quality of the education I got at Macalester, especially in the Anthropology Department."
"I really feel the guidance and support I had from my professors, Arjun Guneratne and Olga González, during my senior year made me understand my potential as a student and writer and pushed me to want to make this paper as good as I could make it," Brown said.
Brown's paper was based on the fieldwork she did during study abroad in Istanbul, Turkey.
"I ended up doing a study of German Turkish women, an idea that actually came out of a bit of a self-study. Many German Turkish women feel more western than Turkish when they first move to Turkey from Germany, even though they are ethnically Turkish," Brown said. "As a western woman living in Turkey myself, I encountered a lot of situations that I didn't know how to handle. I learned a lot from the women I interviewed about what it meant to be a woman in Turkey versus a woman in Germany or the United States. My paper ended up being about those differences."
Brown has just started her masters or MACA (Masters of Applied Cultural Analysis) at the University of Copenhagen. The program teaches qualitative research, ethnography, and other anthropological skills and is aimed at anthropology students wanting to work in consulting or other non-academic fields.
"I'm not sure what my long-term plans are at the moment, but I'm hoping and guessing that I'll continue to work with gender and inequality in some form or another," she said.
The Sylvia Forman Prize is named for the late Sylvia Helen Forman, one of the founders of Association for Feminist Anthropology (AFA), whose dedication to both her students and feminist principles contributed to the growth of feminist anthropology.
Essays may be based on research on a wide variety of topics including (but not limited to) feminist analysis of women's work, reproduction, sexuality, religion, language and expressive culture, family and kin relations, economic development, gender and material culture, gender and biology, women and development, globalization, and intersectionalities of gender, race, sexuality, and class.
The award comes with a certificate, a $500 cash award, and a summary of the winning essay will be published in Anthropology Newsletter.
Since 2003, Brown is the third student from Macalester's Anthropology department to receive the Sylvia Forman prize.