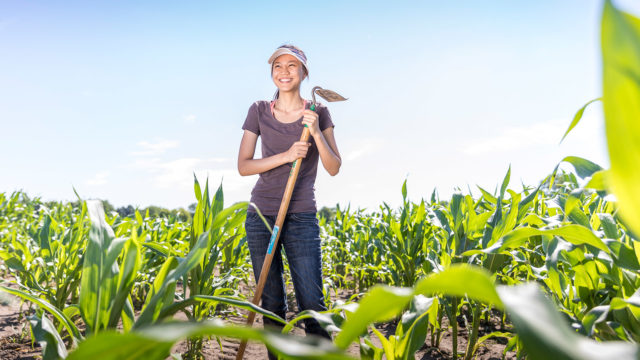 "I went in to explore a potential interest in agriculture. Luckily for me, I came out even more interested."
—Hazel Chew '19
Hazel Chew  '19
Singapore
Biology, Environmental Studies
My summer research took place at the University of Minnesota, St. Paul campus, where I spent my eight hours, five days a week surrounded by maize, also known as corn. This was my first research experience, and I wanted to explore a potential interest in agriculture. Luckily for me, I came out even more interested in this field. (That's not always the case, and that is okay.)
Some days I spent indoors—packaging, grinding, and cooking corn. Other days I was out in the cornfields, right across the road, but still a good 20-minute walk, taking out weeds and collecting tissue samples. I had opportunities to travel a bit further to see other work involving corn and plants beyond the academic sector and to meet collaborators from out of state. In addition to the above-mentioned activities, female students and professors had lunch discussions on topics ranging from women in STEM to graduate schools, which provided insights into future paths and challenges.
Hail in summer prevented me from conducting my research project on silk growth rates and lipid content (due to the corn plants growing slowly). Instead, I aided other projects on maize—comparing different maize genotypes to match physiological attributes to genetic variations, for both food-grade corn and industrial uses of corns to benefit companies and farmers.
Despite not getting to do all that we planned, I still picked up invaluable hard skills (e.g., pollination, coding) and soft skills (e.g., working with professors, and being curious and asking questions). This was all possible because of the work atmosphere of the lab I was a part of, a very important component to consider when applying.
Because it is located in close proximity to other universities, anyone at Macalester can (and should) make use of the opportunities and look beyond what is directly offered on campus.
At the end of my research, I enjoyed eating some sweetcorn freshly plucked from the field and I'm now looking forward to further exploring this field of study.
Hazel's research was funded by a grant from the National Science Foundation.