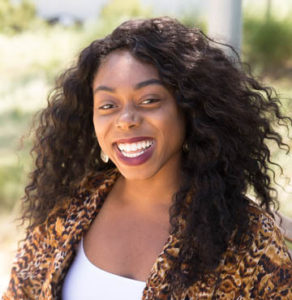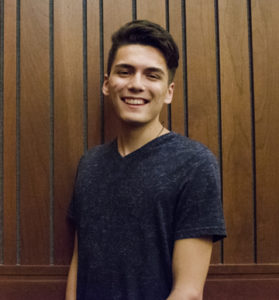 St. Paul, Minn. – Gloria Odoemelam '19 of Detroit, Mich., and Christopher Pieper '18 from Chicago, Ill., have each received $30,000 scholarships from the Harold S. Geneen Charitable Trust.
To be eligible, students had to (a) be a rising junior or senior, (b) have documented financial need, (c) be current majors in economics or political science, and (d) demonstrate interest in the role of corporations in the health of society, as captured by items such as corporate ethics, responsible management, and corporate social responsibility.
Gloria Odoemelam is an Economics and Applied Math and Statistics major with a Portuguese minor and an African Studies concentration.
"I'm very honored to be recognized by Macalester for something I'm truly passionate about," she said in regards to her scholarship.
How did Odoemelam chose her majors? A lot of it had to do with her upbringing. "Coming from an entrepreneurial immigrant family, I had always been curious about how markets and businesses function."
She was drawn to economics and decided to major in it for its interdisciplinary nature. Later, she chose to add an Applied Math and Statistics major when she "realized how essential mathematics and statistics are to economics."
Odoemelam has plans once she graduates from Macalester.
"I'm considering pursuing a career in the tech industry to advocate for the increased involvement of community agents, such as local entrepreneurs, in corporate social responsibility plans and possibly a career in policymaking within governmental organizations such as the U.S. Economic Development Administration."
Recipients of the Harold S. Geneen Charitable Trust scholarship are chosen by faculty in Economics and Political Science. Edward J. Noble Professor of Economics and chair Pete Federer was involved in the review of applicants.
"Gloria was born and raised in Detroit in a Nigerian household, went to high school in rural Connecticut, college in the frozen tundra, interned in Silicon Valley at Facebook, and is off to Brazil next semester to study economics," said Ferderer. "She has an open mind and embraces challenges. I would not be surprised to see her running a major organization in the future."
Christopher Pieper is majoring in Economics, Political Science, and International Studies with a concentration in International Development.
"Being a recipient of the Geneen Scholarship is a wonderful honor that is at once empowering and humbling," he said. "The award supports the pursuit of my passions while also serving as consistent reminder of the amazing support I have had through my career that has made my experiences possible."
Pieper is pursing majors in political science, economics, and international studies because he's "broadly interested in the way our contemporary society produces and distributes power and resources on a global scale." His concentration in International Development, with a particular interest in ideas of Sustainable Development, lies at the intersection of all these topics.
Once he graduates from Macalester, Pieper is sure that no matter what he does, the guiding principles of the Harold S. Geneen Charitable Trust and the values of Macalester College will inform his professional work and personal commitments.
"Emphasizing social responsibility and ethical practices is a task that is so urgent in our time, and I plan to not only hold these values as I embark down my career path, but also consistently act on them," he said. "The educational and professional opportunities that are now available to me, thanks to the scholarship, have put me in an incredibly privileged position which calls on me to give back in every walk of life, both intellectually, professionally, and personally."
"It's difficult not to be astounded by Chris' intellectual agility as a triple major in Economics, Political Science and International Studies," said Patrick Schmidt, Political Science professor and chair, who participated in the selection process. "He puts his considerable energy to work on issues that matter deeply to how we are living our lives in the 21st century, and given his record of leadership and service at Macalester, he is going to be a force for a good long time into the future."
Harold S. Geneen was the former chairman of ITT from 1959 to 1977. When he stepped down as chief executive at the end of 1977, ITT was the 11th-largest industrial company in the United States with more than 375,000 employees and $16.7 billion in revenue. According to the New York Times, Geneen's management style and practices were widely imitated.