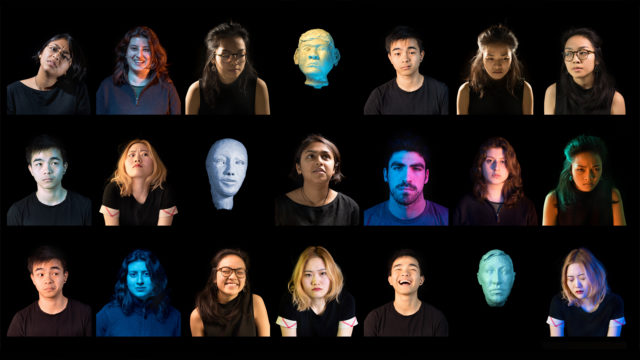 "When we talk about empathy and videogames, dynamics like gender cannot be taken out of the picture. … For this project, I was particularly interested in how depictions of gender in videogames interact with empathy."

—Ana Diaz '18
Are videogames worthy of scholarly examination? Gamers Ana Diaz '18 (Chicago), Malik Earle '18 (Hancock, N.H.) and Logan Stapleton '18 (St. Paul) would reply with a resounding "Yes!"
The trio was already exploring the idea of presenting a panel on videogames, when Professor Alicia Muñoz suggested that they explore their scholarly interest within the framework of the International Roundtable, which this year examines Empathy and Its Discontents. The title of their workshop is Empathy Crafts: Videogame Design Possibilities.
Earle, a religious studies major with a critical theory concentration, and Diaz, a political science major, are individually working on different facets of videogames for their honors theses. Stapleton, who is majoring in math and philosophy, brought yet another approach to looking at videogames and empathy.
Philosophy of technology is one of Stapleton's particular interests. "We could think of how people empathize with their objects and devices—they care about their cars or Siri on their iPhone. We could also think of how technology affects our ability to empathize with others. Maybe Facebook creates echo chambers and people can't empathize with the other side of the political spectrum anymore.
"Maybe someone starts to like spending time with their Alexa more than they do with their neighbors. In our workshop, we're trying to understand the ways that videogames can foster empathy and to showcase design characteristics of videogames that do this well."
The group proposed their session at the end of last school year. Then, mentored by Professor Bret Jackson, they met several times during the summer to discuss possible topics including which games they would focus on, how questions of design and play would be utilized, and who would be responsible for what kind of material or experience they wanted to deliver. Each chose a game to illustrate a particular topic.
"I am still finalizing the sequence from the game Fallout: New Vegas that I want to bring to participants of the workshop," says Earle. "Our workshop will consist of a brief introduction, an experiential component where people will try, or see, a couple of examples of 'empathy through design,' and a final discussion on the importance of videogames to the worldwide discourse on empathy."
Prior to the Roundtable, Earle had already conducted a year and a half of research on the relationship between videogames and religion as part of his Mellon Mays Fellowship, an initiative that seeks to diversify the professoriate by preparing underrepresented students to enter academia.
Each workshop leader brought experience with different videogames. "I think I brought a feminist bent to the project," says Diaz. "The first time I thought about games academically was when I started reading feminist analyses of games, analyses that became relevant to this project.
"When we talk about empathy and videogames, dynamics like gender cannot be taken out of the picture. This is especially important given that videogames are, for the most part, a male-dominated space. For this project, I was particularly interested in how depictions of gender in videogames interact with empathy."
Stapleton seriously considered the game he wanted to bring to the discussion.  "I thought of first-person shooters as games that are designed to be contrary to empathy. They isolate the people that you shoot, so you can't empathize with them. I thought Pikmin might be a good game. You play as a space traveler who crash lands on a planet full of these little creatures, pikmin, who help you collect your tools to rebuild your spaceship and fly home. The pikmin are colorful and they make this whimper noise when they die and a ghost flies out of their body. Even though you need to kill pikmin to save yourself, it breaks your heart every time."
But he finally decided to demo a game called Papers, Please. "You play as a lowly border checkpoint officer in a fictional Soviet-style country that looks over people's documents and decides whether or not to approve someone's entry into the country. The game brings up a lot of interesting ethical decisions and allows a deeper understanding of the bureaucracy of immigration enforcement."
"Videogames are a medium for empathizing with others and should be taken seriously as objects of scholarly scrutiny," says Diaz. "I really want to shift people away from the basic question "Are videogames good or bad?" and support more nuanced conversations about videogames."
Every fall, Macalester hosts the International Roundtable, a globally focused forum on a critical issue. The Roundtable, held October 12-14 this year, convenes academics, students, community members, and performers. Recent Roundtables have focused on Sustainable Cities, Education, and Migration. This year's Roundtable's theme is "Empathy and Its Discontents."