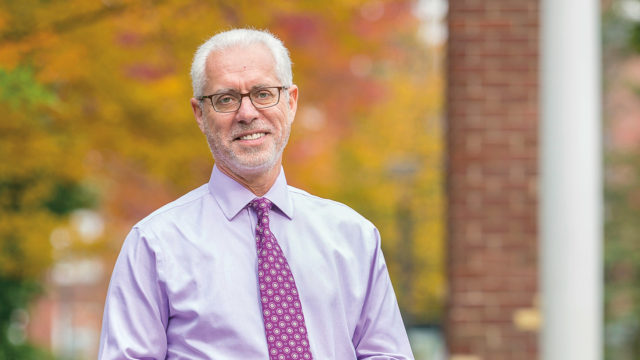 By Brian Rosenberg
The first time I read "Among School Children," by William Butler Yeats, I was 19 years old and a sophomore in college.
I walk through the long schoolroom questioning;
A kind old nun in a white hood replies;
The children learn to cipher and to sing,
To study reading-books and history,
To cut and sew, be neat in everything
In the best modern way—the children's eyes
In momentary wonder stare upon
A sixty-year-old smiling public man.
I remember, even then, finding something melancholy and quizzical in that powerful final line of the opening stanza. Surrounded by youth, the Nobel Laureate and literary icon is keenly aware of how his age and fame separate him from the children and of the degree to which he has become, in their eyes, less a person than a sort of beneficent walking statue. Implicit in the line is a question about the extent to which his public role has separated Yeats even from himself.
He might well have been thinking about another line from another English poet, Tennyson, whose restless Ulysses, back in Ithaca after his ten-year journey, laments the fact that "I am become a name."
Yeats was 62 when that poem was published in 1927.
I am, as it happens, 62, far removed from that sophomore who read deep into the night, and now the line for me has an altogether different and deeper resonance.
I am not, alas, a famous poet, but I am, like the Yeats of that poem, a person separated by age and position from the youth by which I am surrounded. I confess that when I walk across campus and see students stare and point, when I step onto another stage to address another crowd, I think pretty often about that line.
When I hear or read about "President Rosenberg" or "PBR" or "BriRo," I wonder about the connection and disconnection between those masks and me—between the various titles I have become and the actual person I believe myself to be.
Somehow, I have become that "sixty-year- old smiling public man." How and when did that happen?
The challenge of such a situation, I have found, is striking the right balance between the public and the private, the position and the person. One can never forget the role: there are things that I simply cannot say or do, and things that I must say or do, because I am the President of Macalester College. I cannot lose my temper in public; I cannot speak to many political issues (I mess that one up from time to time); I cannot show vulnerability. I must smile as much as possible when I walk across campus; I must, always, speak with hope and enthusiasm about the college entrusted to my care; I must respond to even the most intemperate of emails with a polite "thank you for writing."
At the same time, I must allow students and faculty, alumni and trustees, to see at least some of the person beneath the persona; I must, even as I am playing my role, be honest; I must be as genuine as those around me will allow me to be. Leaders who fail to do this are generally unsuccessful.
Even writing this column is a peculiar wrestling match between my public and private selves. Am I neglecting my job by not writing about our newest academic program or fund raising or the latest crisis to threaten higher education? Or am I carrying out my job by revealing that I am a person who reads poetry and is transparent enough to share at least a few of his personal struggles? Am I being evasive or clever or subversive?
All I know for certain is that when the reminder came to write, for more than the fiftieth time, my column for Macalester Today, this is what I wanted to say.
At some point in the future I will stop being PBR and resume being simply BR. That will be interesting. I will discover whether the person who remains feels sufficient without a title and a role within which to be subsumed. Until then I will try to enjoy the mysteries of being in my sixties (unavoidable), smiling (sometimes), and public (to a degree) and know that the player and the part can make one another better. And I will continue to draw pleasure from Yeats, who ended "Among School Children" with one final piece of wisdom: How can we know the dancer from the dance?
Brian Rosenberg is president of Macalester College.