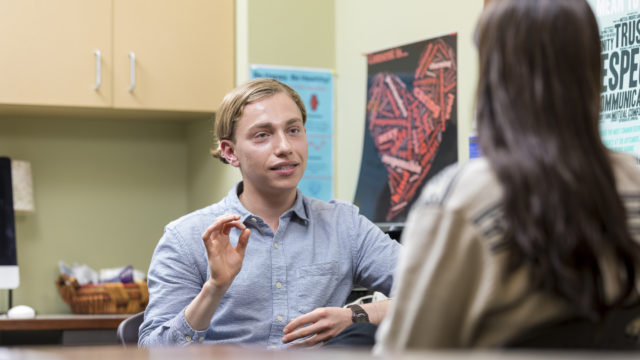 By Rosa Durst '17
Georgia Gempler '17 taught an English immersion class whose members speak languages ranging from Swahili to Mandarin. With the help of Brett Hahn '17, underserved young people learned how to take control of their own health. Rejecting the idea of a campus "bubble," these and some 30 other Mac students earned their work-study financial aid by engaging in the community. Not content to wait for their diplomas, they made a difference  as part of the Off-Campus Student Employment program.
Through OCSE, students serve as a bridge between Macalester and dozens of nonprofit organizations across the Twin Cities. "Student employees are often co-creators of new ways that we can work together," says OCSE's lead staff person Derek Johnson. "They often help to connect more Mac students to off-campus possibilities, and they engage in meaningful work on a weekly basis."
Four students who have been a part of OCSE told us about their experience.
Brett Hahn '17
New York, N.Y.
Biology
Health Advocate, Minnesota Internship Center
Now an Associate Research Technician at NYU Langone Medical Center
For the past three years, I've worked at the Minnesota Internship Center, a charter high school in Minneapolis that targets some of the city's most underserved young people, many of whom face barriers to accessing quality healthcare. As a health advocate, my job is to reduce those barriers and empower students to take control over their health, whether that's making sure they have a primary care provider, scheduling appointments at local clinics, calling health insurance companies, or arranging visits from health care providers to speak on subjects like vaccination. To provide this support and guidance, it's important that I build trust with the students, so they feel comfortable coming to me with their health needs and concerns.
It's been extremely rewarding to see students who have taken control of their health and the positive impact that has had on their education, their future goals, and their self-esteem. I have a concentration in community and global health and in the future I hope to pursue a career as a healthcare provider. To be an effective provider you need to have a great depth of understanding for your patient, their community, and their background. This job has equipped me with insight into factors that prevent people from following through with treatment and receiving quality healthcare.
To be entrusted with this level of responsibility and leadership is a privilege that I think is quintessential to the Macalester experience, and something all students should try to take advantage of.
Georgia Gempler '17
Latin American Studies
Yakima, Wash.
Outreach Intern, Minnesota Literacy Council
Now a Learning Center Coordinator at the Minneosta Literacy Council
In both of the jobs I've had through OCSE, my work has focused on teaching English to immigrant or refugee adults in the community. For two years I worked at a nonprofit called the Jane Addams School for Democracy, and when that organization ended, I became the outreach intern for the Minnesota Literacy Council at Rondo Community Outreach Library.
In addition to outreach efforts, I teach an intermediate ESL [English as a Second Language] class one night a week. The classes are taught with total English immersion, so we often have people whose first language is Spanish, Somali, Swahili, and Mandarin, all in the same class. It's such a valuable experience to be able to get to know the participants. These are adults who have had to adjust to a different culture and different languages, who have been through so much in their lives and who have so much to teach other people. Even though I'm technically the teacher in that context, I always feel like I'm the one who's learning more.
I now have a pretty solid grasp on what it would be like to work at a nonprofit full time. At least for a few years after I graduate, this is something that I am looking to pursue, and I think my job has prepared me well for positions beyond entry-level in a non-profit.
Ginny Lee '17
Washington, Mich.
Media and Cultural Studies, English
Youth Program Assistant, Saint Paul Neighborhood Network
I work as a Youth Program assistant with Saint Paul Neighborhood Network (SPNN), a local cable television network and community media center. One of SPNN's missions is to give young people the opportunity to create and produce their own community media through various SPNN Youth programs.
Part of my job is to help teens work on their independent media projects during open lab sessions or after-school programs. I assist in editing, filming, and brainstorming ideas for teens' projects in all genres—documentaries, music videos, photography, personal narrative, and more. The most rewarding aspect of working at SPNN is building relationships with great people like my supervisor and other SPNN staff, volunteers, and the students. SPNN has even become a space where I can come by to rest and take a breath.
Some Macalester classes focus on theoretical material, and programs like OCSE are great for getting real-life technical experience in nonprofits: to see how they function and how they get funded; to learn about different political ideologies of community and staff members; and especially to meet people with different backgrounds. Many of the people I've met while working at SPNN have different priorities, stories, interests, and perspectives than the average Macalester student, and this has allowed to look back and reflect on my own perspective.
Marta Vegdahl-Crowell '17
Chelan, Wash.
International Studies
Assistant Class Leader, Pillsbury House Theatre
Now a Campus Campaign Coordinator-Teach for America
As a first-year student, I was involved with the service program Lives of Commitment, which allowed me to begin volunteering as soon as I came to campus. The OCSE program turned out to be a great avenue for continuing my community involvement.
I work at Pillsbury House Theatre, a community center for the arts in the Powderhorn neighborhood of Minneapolis. My role is to help lead the teen programming, where I assist with our college prep class and the fashion club. I've learned that the most important thing I can do in this capacity is to build relationships with students.
Recently, a former college prep student came back to visit, and told me about her experience in college. She'd ended up transferring to Minneapolis Community and Technical College from a local university where she'd struggled with the lack of a strong Latinx community. She's thrived at MCTC, where she became president of their Latinx organization.
Since starting work at Pillsbury House, I've realized that I'm interested in working in education. Next year I'll continue the work I've been doing by participating in an AmeriCorps program called College Possible, where I'll teach a college prep class to low-income and first-generation college students in high schools in the Twin Cities.