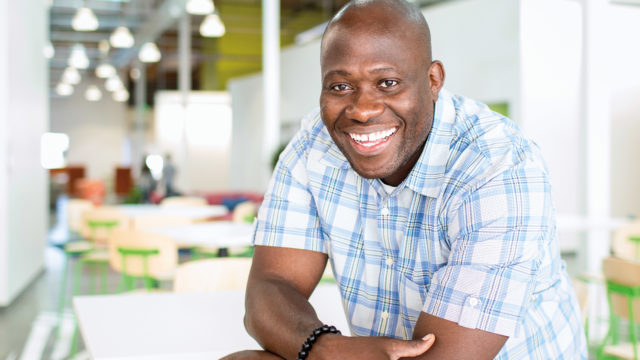 Kofi Amoo-Gottfried's rise at Facebook is fueled by a passion for broadening access to the Internet.
By Lynette Lamb / Photos by Robert Houser
When Kofi Amoo-Gottfried '01 arrived on the Macalester campus from Ghana in 1997, he had never used the Internet. Today he works in the very center of that world, as head of brand and consumer marketing for the social media behemoth Facebook.
His 20-year journey has included a surprising summer internship, many years as an ad man, and several journeys back to Africa to share his skills and knowledge—all of which ultimately brought him here, to Facebook's sprawling campus overlooking a flat, marshy section of San Francisco Bay near Menlo Park.
It's a long way from Accra, as Amoo-Gottfried is the first to concede. But Facebook's mission—to open up and connect the world—fits well with his own values. Indeed, until he was named to his current position—replacing fellow Mac alum Rebecca Van Dyck '91—he was head of consumer marketing for the company's internet.org division, which has as its goal to help connect the millions of people around the world who lack Internet access.
In his 15 months with internet.org, Amoo-Gottfried traveled to India, Nigeria, Ghana, South Africa, Kenya, the Philippines, Myanmar, and other countries to make affordable Internet a reality in places formerly bypassed by technology. By installing Express Wi-Fi hot spots, beaming internet from the sky via satellites and high-altitude, long-endurance planes, and creating something they call the Free Basics platform to lower the costs of Internet access, "internet.org is exploring innovative ways to get the unconnected half of the world online," he says.
Free Basics provides people with access to useful content such as news, employment, health, education, and local information without data charges, using phones and 2G connections. "It's all really difficult technologically, but there's an inspiring end in mind for what we're trying to accomplish for people," says Amoo-Gottfried.
Shortly before leaving his job at internet.org, he returned to Nigeria and Ghana to capture stories of how people were using internet.org services and checked out a pilot Express Wi-Fi hot-spot installation just a mile from his childhood home. "It's a passion project," says Amoo-Gottfried, "and it continues to be one of the most exciting Facebook initiatives for me."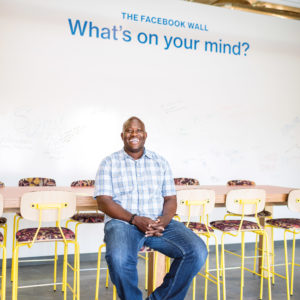 Groomed for leadership
Despite his intense interest in the initiative, Amoo-Gottfried's stint at internet.org was never meant to be a long-term one, says predecessor Van Dyck. "I hired Kofi with the idea that he could be my successor," she says. "He has proven to be an amazing rock star and has excelled beyond anyone's expectations."
She singles out his skills in strategizing, motivating, leading, and inspiring his staff "to create beautiful and smart ideas that build strong relationships between the consumer and the company he represents."
Amoo-Gottfried, in turn, credits a large part of Facebook's success, as well as his own, to the company's lack of hierarchy and its emphasis on empowering employees. "We're incredibly data driven, always figuring out what's best for the people who use our products," he says. "We're in a constant learning environment, which enables autonomy among the staff."
Becoming an ad man
At Macalester, Amoo-Gottfried was an economics major and initially planned to pursue an investment banking or consulting path after graduation. But at a job fair his junior year, he encountered a recruiter from the venerable Chicago advertising agency Leo Burnett, who told him about an open internship interview slot later that morning. He aced the interview, landed the internship, and learned to love the ad biz. By summer's end, "I said to myself, 'I love this and I want to do it for my career.'"
Leo Burnett offered Amoo-Gottfried a full-time job upon graduation and he stayed there for six years before moving on to Wieden + Kennedy, Bacardi, and Publicis Ghana, where he helped build the first Publicis ad agency in Africa from the ground up.
Giving back
Publicis Ghana and Facebook's internet.org represent two workrelated examples of Amoo-Gottfried making contributions around the globe. And although too humble to mention it himself, his former boss Van Dyck lists several of his volunteer commitments, including being a board member for Mindful, a creative agency in Ghana; a board member for Population Services International, a global nonprofit health organization operating in over 60 countries; and an advisory board member for Golden Baobab, which gives an annual award for the best African literature featuring African children as heroes. He is also a key member of Facebook's diversity initiatives, Van Dyck adds, leading efforts to bring more varied voices into Facebook's marketing department.
At home
When he's not working—and Amoo-Gottfried describes his hefty 50- to 60-hour work week as "pretty good" for the tech world—he lives near the beach in Half Moon Bay, over the coastal range from Facebook headquarters. He is married to his Macalester sweetheart, Kate Amoo-Gottfried '00; the couple is raising two sons, Marlowe, 3-½, and Miles, 2.
He found Macalester—and ultimately his wife and career path—through his uncle, former UN Secretary-General Kofi Annan '61—"the more famous Kofi," as Amoo-Gottfried calls him. Annan is his mother's twin. In typical low-key fashion, as a student Amoo-Gottfried didn't tell his Mac friends about his connection to one of the college's best known alums—until his uncle came to campus in 1998 to deliver the Commencement address. "At first even my now-wife didn't believe me," he laughs.
But the Kofis have something more important in common than their names: their desire to open up the world to all its citizens. Kofi senior said it like this: "Knowledge is power. Information is liberating." His nephew, working at the very nexus of new media, puts it this way: "I'm deeply cognizant of the impact of the internet and its social mission. We want to make the world more open and connected, and give people the power to share."
Lynette Lamb, a Minneapolis freelance writer/editor, is the former editor of Macalester Today.