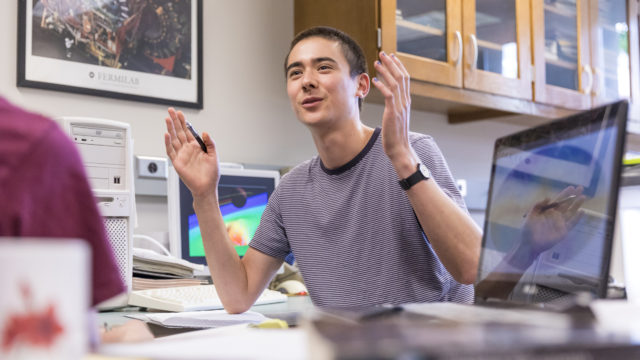 "I am often surprised by how much my research has developed my skills and, more importantly, intuition, for tackling problems in physics." —Theo Jacobson '18
Theo Jacobson '18
San Diego, California
Physics, Mathematics
In my second summer doing theoretical physics research at Macalester, I worked with Professor Tonnis ter Veldhuis to investigate extensions of General Relativity, Einstein's theory of gravity. In particular, we looked at theories that extend General Relativity to include parity violation, or interactions that treat left- and right-handed particles differently. Our goal was to investigate what sort of observable effect this asymmetry has on cosmic radiation, and how it can generate the imbalance of matter over antimatter.
Using mostly pen-and-paper techniques with some help from computational tools, I relied heavily on mathematics. This kind of physics is very different from the kind conducted in a laboratory; I derived results by hand rather than from equipment. This also gave me the freedom to work anywhere, and think about problems in my head all day (and night!). Many small breakthroughs occurred to me while falling asleep, far from my notes and papers.
Theoretical physics can be frustrating as well as exciting. The research experience vacillates between progress and stagnation, but my advisor was very encouraging and kept my spirits high even when I felt like I wasn't moving forward. It is much easier to overcome an obstacle when you have an advisor there to remind you of the greater scope of your work.
Because the physics department is small at Macalester, I have gotten to know my professors well enough to engage with their research interests. I took a topics course called Introduction to Einstein's General Relativity, which prepared me well for my recent attempts to extend Einstein's theory. I am often surprised by how much my research has developed my skills and, more importantly, intuition, for tackling problems in physics. 
Jacobson's research was funded by a Beltmann Summer Research Fellowship.