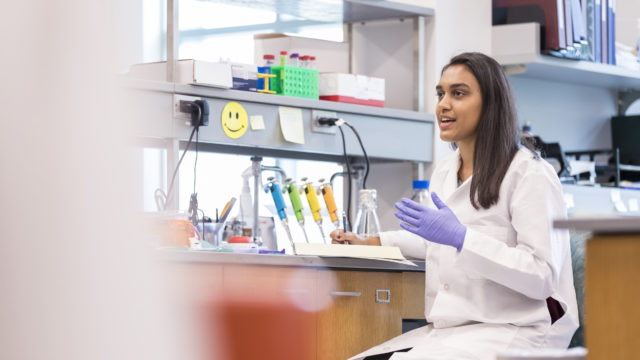 "I enjoyed the opportunity to learn, collaborate, and discuss and assess primary research literature working directly in the field of pharmacology." —Soniya Coutinho '19
Soniya Coutinho '19
Plymouth, Minnesota
Neuroscience
It was surprising to realize that my perceptions of a lab setting were different from reality. Full-time lab research is highly focused, which contrasted with the broader focus of labs I had taken alongside classes.
I was accepted into the Life Sciences Summer Undergraduate Research Program (LSSURP) at the University of Minnesota, specifically their neuroscience program, where I conducted research in Professor Anna Lee's lab in the Department of Pharmacology.
My research focused on characterizing the underlying molecular mechanisms of alcohol and nicotine addiction using mouse models. The project looked into the involvement of a specific protein called protein kinase C epsilon (PKCε) and nicotinic acetylcholine receptors in the consumption of nicotine and water in female mice. This research may provide insights into the role of sex-influenced factors in nicotine addiction, eventually resulting in better treatments for nicotine addiction in humans.
I was initially overwhelmed, but found my Macalester courses, including Cell Biology and Genetics Lab, and Behavioral Neuroscience  prepared me to tackle the challenges of research. Over the course of the summer, I learned new laboratory skills and was introduced to the difficult, frustrating, rewarding and exciting aspects of the lab environment. I enjoyed the opportunity to learn, collaborate, and discuss and assess primary research literature working directly in the field of pharmacology.
During this 10-week program, I met other students and faculty and heard about their research. Additionally, LSSURP provided a series of informational sessions relating to graduate school, professional development, and networking. I gained professional skills, made new friends, and immersed myself in a research experience. Housing and meals at the University of Minnesota were provided, which allowed me to explore life on the campus of a large research university.
I'm very grateful for this experience; LSSURP provided a valuable look into what graduate school life is like and this will inform my plans going forward.
Soniya's research was supported by the National Institutes of Health and National Institute on Drug Abuse.