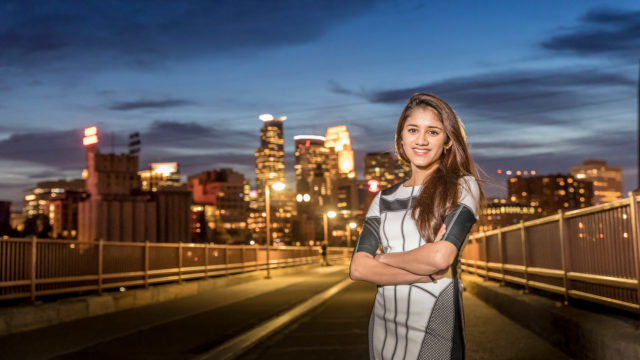 Alumni, faculty, internships and The Wall Street Journal. Mugdha Shidhaye '18 has employed them all as she prepares for a career in finance.
When she graduates from Macalester in December, Shidhaye, who hails from Mumbai, will have an economics major and three solid internships under her belt, including this summer's internship with global finance company Goldman Sachs in their Salt Lake City office.
"[The New York trip] was a great opportunity to learn from alumni who had been in my shoes not long ago, but are now working on Wall Street or elsewhere in finance." —Mugdha Shidhaye
For eight intense and exhilarating weeks, Shidhaye has worked with the Goldman Sachs Investment Banking Division, aligned with the "TMT," Technology, Media and Telecom, industry group. "In any given day, I may be looking at 10 or more different companies, learning something new about AI (artificial intelligence) or data centers, and checking out innovations happening all around the world," says Shidhaye. "It's exciting and definitely keeps me on my toes." She has been impressed by the well-structured training sessions, the opportunity to sit in on calls with the "deal team," and the amount of responsibility she has been given as an intern.
But one doesn't just send in a resume and land an internship like this; preparation is key, and advice from alumni was critical to her success.
Shidhaye took economics professor Joyce Minor's course Introduction to Investment Banking as a sophomore, which gave her time to build on that knowledge as an intern. Two years ago, she interned with the multinational Royal Bank of Canada, working with mutual funds in their Minneapolis office. The following summer she conducted global equity research as an intern with Jeffrey Slocum & Associates, also of Minneapolis.
As she prepared for the next opportunity, Shidhaye regularly read The Wall Street Journal and The Economist and made use of online resources including Wall Street Oasis and the Vault guides. To get started, she says, "Just Google 'How to prepare for a Wall Street interview.'"
But what really gave her a distinct advantage? The alumni.
As she looked forward to her interviews with Goldman, Shidhaye was able to call on alumni she had met in New York, and others recommended by Professor Minor, who is herself a Macalester alumna.
For example, Shidhaye says, "I talked with Rahul Barua '05 a few times before and after the Interview Super Day. He was so helpful, conducting multiple prep sessions and doing a mock interview with me." Kwame Fynn '13, Lauren Holm '16, Victor Ivanov '07, Adam Muro '10, and Nadine Penkovsky '16 generously shared preparation materials, offered connections to others in the industry, and shared their knowledge about preparing for tough interview questions, how to make a good impression over the phone, and the workings of Super Day, when a candidate may have hours of interviews with various people at a firm.
Now, as she enters her last semester, what advice does Shidhaye give students interested in a similar career path? "If you want to get into investment banking or finance, use your summers for internships and get exposure to the financial industry. It definitely pays off in the long term."
Big picture, what have her internship experiences taught her?
"I have a strong appetite for this fast-paced work life and believe the steep learning curve means it will continue to be interesting and challenging for many years to come."