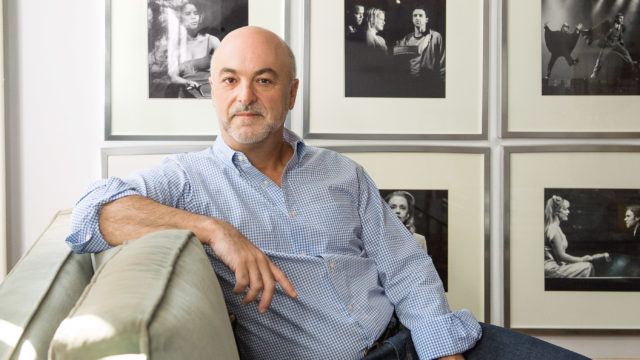 Working behind the scenes, Roy Gabay '85 brings plays to life—both on and off Broadway.
By Nell Casey / Photo by Evan Sung
Along the front hallway of Roy Gabay's brownstone, which sits on a tranquil, tree-lined block near Fort Greene Park in Brooklyn, N.Y., are framed posters of the plays he has worked on throughout his career as a theatrical producer and general manager. They visually narrate his involvement in some of the most captivating theatrical productions of the last three decades. Here is the poster for Eric Bogosian's fiery one-man show Pounding Nails in the Floor with My Forehead; there is Edie Falco looking solemn in Marsha Norman's 'night, Mother; here are John C. Reilly and Philip Seymour Hoffman locking horns in Sam Shepard's True West.
Gabay '85 loved theater from time he was a boy, when his mother regularly carted him into New York City from Connecticut to see plays. "It was instantaneous," says Gabay. "I kept thinking, 'What did they do to make this happen? How can I be a part of that?'" That feeling was bolstered when he saw A Chorus Line for his 14th birthday in 1977—"I can still see the whole thing in my head."
By the time he was a drama and speech major at Macalester, he knew this was his calling. He also knew he wanted to stay behind the scenes, where he could maintain more control than he could if he were onstage. "I don't think I knew what producer or manager meant when I graduated; I just knew that I had a passion for theater," he says. "For my senior project, I produced a show called Digging to China. I remember putting all the pieces together and thinking, 'Oh I guess I just produced it.'"
After Gabay graduated from Macalester, he stayed on in St. Paul for a couple of years, forming a small theater company called Third Coast Theater. This was before the Internet had transformed the world, and thus Gabay was able to take shrewd advantage of his hometown's proximity to Manhattan. On one of these trips, he saw Larry Kramer's The Normal Heart, then playing Off-Broadway at the Public Theater. One of the first plays to explore the AIDS epidemic, it was fast drawing attention and acclaim. In a move that presaged a financial model now standard in the industry, Gabay obtained the rights to The Normal Heart and brought it to Minneapolis. "I just rented a theater and put it on," Gabay recalls.
In 1988, Gabay moved to New York, where he rose through the ranks the old-fashioned way. "I had so many internships, I worked at various theaters, and I temped," he says. Along the way, he met investors who asked him to get in touch with them should he ever come across a play he'd like to produce.
That opportunity arose when Paula Vogel's How I Learned to Drive, about an obsessive relationship between a teenage girl and her uncle, opened at Manhattan's Off-Broadway Vineyard Theatre in 1997. When the show was set to close, Gabay offered to raise the money to bring it to another theater for an open-ended run. He partnered with another producer and pulled it off: How I Learned to Drive moved to the Century Center for the Performing Arts, where it won the 1998 Pulitzer Prize for Drama and earned Gabay a main producing credit. After that, "people trusted me a little more," says Gabay. "People invest not only in a theatrical project but in the leader of the project."
Throughout, Gabay continued working as a theatrical general manager: negotiating contracts, securing theaters, and pulling together advertising and marketing, among other responsibilities. "Managing is a job and a career," explains Gabay. "You know what they say about producing: You can't make a living but you can make a killing. One Hamilton or Chicago and you've made it, but way more often what happens is the show closes early."
In 2003 Gabay started his own company, Roy Gabay Theatrical Production & Management. He has since renamed it Jumpstart Entertainment and taken on business partner Daniel Kuney. Along the way, Gabay also shifted from being the Play Guy to the Musical Guy. "Rock of Ages was one of the shows I worked on that turned the tide, as well as Fela!" he explains. "Recently, though, I've been thinking that I want to get back into plays."
In the meantime, the Musical Guy has a few more tricks up his sleeve, including his current show, Bat out of Hell, which opened in Toronto in October. He is serving as general manager on Monsoon Wedding, a musical based on director Mira Nair's 2001 smash film. (Nair is also directing the play.) Gabay is putting together the Broadway production of Monsoon Wedding, which ran until July at California's Berkeley Rep and he hopes will open on Broadway by fall 2018.
Another project he is looking forward to—though it remains in the early stages—is The Scenario, a musical set to three decades of hip-hop, produced by Russell Simmons and Universal Music Group. "It's an interesting idea, taking from the jukebox genre [of musicals, such as Jersey Boys and Mamma Mia], which hasn't really been done with hip-hop yet," he says. "We'll see if the Broadway audience is going to come over for this." It could capture the same audience that flocked to Hamilton, but when it comes to plays, says Gabay, it's always a gamble.
"It's beyond frustrating sometimes that there is no clear path— but it's also good that things that shouldn't work, do work," Gabay says, still excited to roll the dice after all these years. "If it were easy to produce hits, it would be great, everybody would be rich— but it wouldn't be quite so much fun."
Nell Casey is a New York writer and the editor of several books, including The Journals of Spalding Gray.