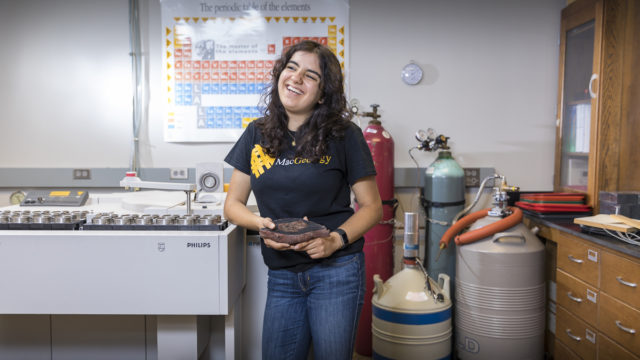 "I analyzed samples for zirconium using technologies including a Micro X-ray Fluorescence machine (Micro-XRF) and a Scanning Electron Microscope (SEM)." —  Diala Abboud '20
Diala Abboud '20
Cleveland, Ohio
Geology
Over the summer, in central California, I worked alongside geology professor Alan Chapman to gather samples and data on xenoliths from the Sierra Nevada batholith (the "plumbing" system of a volcano). A xenolith is a piece of rock trapped inside another kind of rock, often magma from a volcano.
These samples will be used and compared to xenoliths from Arizona that were gathered by Professor Chapman's student researchers last summer.
My role in this research was to study the geochemistry of the xenoliths. Back on campus, I have been analyzing samples for zirconium using technologies including a Micro X-ray Fluorescence machine (Micro-XRF) and a Scanning Electron Microscope (SEM). Furthermore, I visited Rice University with Alan to analyze our samples for rare earth elements using the laboratory's Mass Spectrometer. This analysis will help understand at what temperature the minerals were formed and which rare elements were or are present. It will be used in conjunction with uranium-lead dating collected on those samples earlier in the summer.
Before beginning this analysis, Professor Chapman, geology lab supervisor Jeff Thole, two other colleagues in our department—Ojashvi Rautela '19 and Michael Murphy '19—and I helped host a 4-H geology summer camp in Prescott, Arizona. We worked with children from 9 to 13 teaching them how to identify rocks and minerals and to understand the geologic time scale, and getting them excited about the field in general. A highlight of camp was visiting amazing geologic structures such as Sedona National Park and Colton Crater.
Working and studying alongside my advisor and professor, Alan Chapman, has been phenomenal. He is an exceptional mentor who treats his students with great respect, listens with interest, and approaches students as a friend rather than an intimidating superior. He keeps an open mind and works with passion. Having worked with Professor Chapman, I feel motivated and inspired to challenge myself both physically in the field and mentally on campus.
Diala's research was funded by the National Science Foundation.