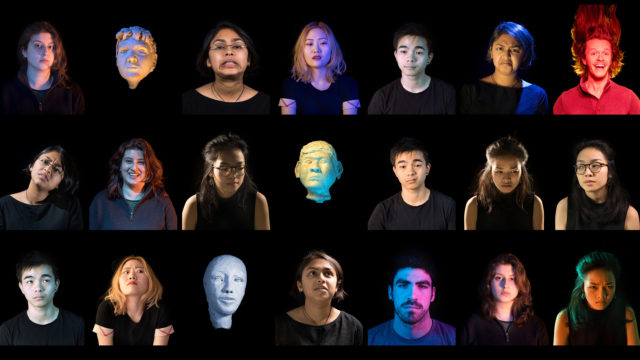 St. Paul, Minn. – Macalester College presents its 24th annual International Roundtable with the theme, "Empathy and Its Discontents," Thursday – Saturday, October 12 – 14, in varying campus locations and times, 1600 Grand Ave., St. Paul, Minn. Free and open to the public. For more information, call 651-696-6655 or email igc@macalester.edu.
Every October since 1994, Macalester's International Roundtable has brought diverse communities together to dialogue around a single theme. It's a community-wide and globally-focused forum exploring critical issues from a variety of perspectives. Macalester invites speakers, academics, practitioners, community members and performers to offer their work and experiences to galvanize student engagement and prompt global thinking through plenary sessions, student-led workshops, and campus-wide activities. This year, the theme is "Empathy and Its Discontents."
The modern concept of empathy first emerged in the early nineteenth century as a matter of aesthetic philosophy. The idea of "feeling oneself into" a work of art quickly developed into a powerful social-scientific category with wide-ranging applications.
Today, the international conversation about empathy is urgent and divisive. The idea is championed and challenged in equal measure by neuroscientists, human rights activists, arts critics, psychologists, philosophers, and commentators from many other fields.

This roundtable seeks to bring these sometimes collaborative, sometimes conflicting perspectives together in one place.
The discussions will raise essential questions about the role of empathy in human relations:
What motivates the concern for the suffering of distant strangers?
To what extent, and by what means, does art enable us to forge connections with others?
What are the limits and risks of the empathetic impulse?
And finally, what is the future of empathy in a world facing unprecedented ecological, technological, and political threats?
This year, the four plenary speakers include:
Paul Bloom, the Brooks and Suzanne Ragen Professor of Psychology at Yale University. His research explores how children and adults understand the physical and social world, with special focus on morality, religion, fiction, and art.
Aminatta Forna, the award-winning author of the three novels The Hired Man, The Memory of Love and Ancestor Stones, and the critically acclaimed memoir The Devil that Danced on the Water.
Wing Young Huie, photographic artist and educator. For over 30 years, the celebrated photographer has captured the complex cultural realities of American society.
Patience Zalanga, a photographer documenting the Movement for Black Lives. She began taking photographs of marches, protests, and direct actions after Michael Brown, Jr. was killed in Ferguson, Mo.
Macalester faculty James Dawes, English, Mark Mazullo, Music, and Dianna Shandy, Anthropology and the Institute for Global Citizenship, are this year's co-chairs. The 2017 International Roundtable committee members include: Brian Lozenski, Educational Studies, Lin Aanonsen, Biology, and the three co-chairs.
Over 40 Macalester students are leading 17 sessions at the roundtable, and each session is supervised by faculty and/or staff mentors who are contributing their own rich and diverse expertise to the roundtable. Sponsored by the Macalester Institute for Global Citizenship.
Previous Roundtable themes:
1994 The International Community and the Emerging World (Dis) Order
1995 Literature, the Creative Imagination, and Globalization
1996 The Divided Self: Ethnicity, Identity, and Globalization
1997 Nature, People, and Globalization
1998 Globalization and Economic Space
1999 Contending Gods: Religion and the Global Moment
2000 International Feminisms: Divergent Perspectives
2001 The Body: Meditations on Global Health
2003 Complex Contradictions: African, American, and Middle Eastern Perspectives
2004 America and Global Power: Empire or . . . ?
2005 Quixotic Offspring: The Global Legacy of Don Quixote
2006 The United Nations Organization (UNO): What Future?
2007 The Musical Imagination in the Epoch of Globalization
2008 Whither Development? The Struggle for Livelihood in the Time of Globalization
2009 Global Environment: The Eleventh Hour?
2010 My Sister's and Brother's Keeper? Human Rights in the Era of Globalization
2011 Children of the World: The Dialectic of Promise and Vulnerability
2012 Feeding the World: Globalization, Food, and Agriculture in the 21st Century
2013 Global Health: Promoting Equity Within and Across Borders
2014 Migration
2015 Education in a Globalized World: Equity, Diversity and Civic Participation
2016 Sustainable Cities: Sharing Habitat, Building Resiliency
2017 Empathy and Its Discontents