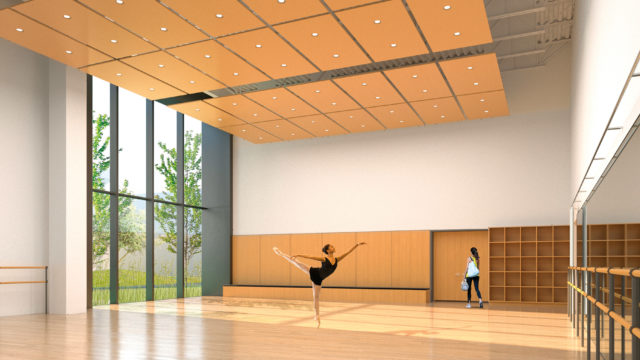 By early 2019, Mac will have a new home for the performing arts.
By Rebecca DeJarlais Ortiz '06
When Emma Breslow '19 (Londonderry, N.H.) arrived at Macalester, she knew nothing about theater—let alone that she might develop a passion for it. But she enrolled in a theater class her first semester, and soon afterward wandered into the department's costume shop, hoping to apply her sewing skills.
Before long she was volunteering there, a commitment that then turned into a work-study job.
Along the way, Breslow found a home. "The theater building is where I find myself when I don't know where to go but want to be somewhere," she says. "If I have 15 minutes until my next class and I'm nearby, I'm going to the theater building. Chances are good that I'll find a friend there or a professor who I've been meaning to talk with."
Beginning in November, Breslow's beloved community will be in flux until January 2019—but the result will be worth the wait. In that time, the existing theater building will be demolished and a new building will take its place—a transition that will transform experiences for theater and dance students at Macalester.
It will create nine much-needed classrooms for general campus use, link the arts and sciences through a new skyway to Olin-Rice, add elevator access, and incorporate updated safety features. The building was designed by HGA Architects and Engineers, which was also responsible for the award-winning recent remodelings of the college's music and art buildings. The payment structure for the $32-million project includes the college's $10-million fundraising goal.
The plans for the new theater building emphasize the flexible use of each studio or classroom. "HGA has created a clever project that uses every inch of space very well," says new department chair Cláudia Tatinge Nascimento, who arrived on campus last summer. "We needed a versatile performance space that could accommodate different styles of theater and dance for the future. Every choice in the building is geared toward creating the best possible learning environment. Every room addresses innovations in the field of live and digital performance, so students will be better prepared to join the field when they graduate."
That approach includes the design of the main performance space. Instead of a traditional proscenium layout, the theater and dance faculty opted for a flexible performance space with hinged galleries that will create different seating configurations for every production. That layout opened more square footage possibilities throughout the building, including expanded studios with large windows and a restructured lobby area with plenty of seating for gathering and an intentional link to the music department.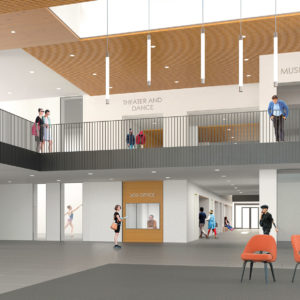 "The new facility will bring more light, more access, and more connection—both around our department and with the rest of campus," says theater professor Harry Waters Jr. "There are so many possibilities."
When the new building opens in time for the spring 2019 semester, Emma Breslow and her classmates will be starting their final term at Mac. They're already imagining how it will feel to wrap up their theater education in the new space. As for Breslow, she hopes to juggle sewing costumes with acting in that spring's main stage production—the building's first and her last.