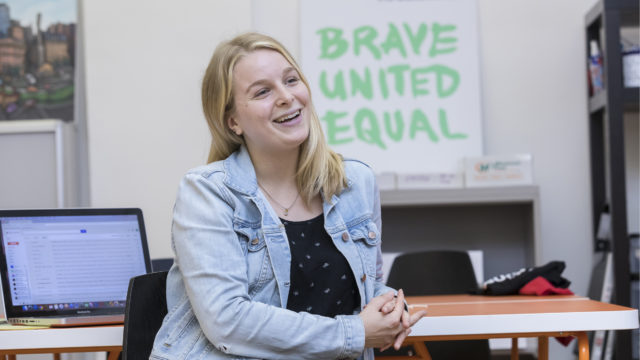 Rosemary Laine '19
St. Paul, Minn.
History, Community and Global Health concentration
As a recipient of the Taylor Public Health Fellowship, I had the opportunity to intern at Pro-Choice Resources. Pro-Choice Resources works to ensure that all people, regardless or race, gender, class, or income, have the ability to make decisions about their sexual and reproductive health. Through political advocacy, sexual health education and outreach, and provisions of access to the care each individual chooses, Pro-Choice Resources works to create a more equitable world in which reproductive justice is a reality.
The Taylor Public Health Fellowship is an endowed fund at Macalester that provided a stipend for my part-time work, strengthened my applications to organizations within the Twin Cities, and allowed me to explore my interest in public health during the summer. Macalester's location in the Twin Cities, and the various fellowships, advising and grants that are available for students, make it a college in which students can easily pursue their interests beyond the classroom.
While working at Pro-Choice Resources, I helped the organization prepare for their 50th anniversary by digitally archiving their history. It was great to be able to combine my love of history and public health in one internship and in an environment that might be relevant to my work after graduation. I also helped them prepare for the Minnesota State Fair. Pro-Choice Resources is the only pro-choice organization at the fair, so it is an important means of outreach, especially for rural communities within the state. This organization works to promote reproductive justice within the Midwest in ways that are innovative and important. My experience gave me a broader understanding of how nonprofits work, what reproductive justice looks like, and the importance of grassroots efforts in politicized public health issues.